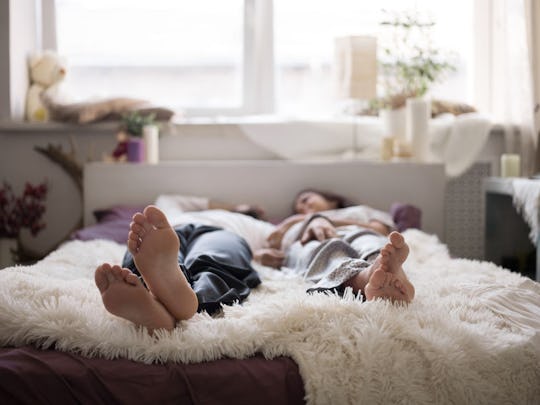 Milles Studio/Stocksy
5 Reasons Why You Sleep Better After Sex, According To Science
It can seem like a bit of a conundrum: It's late, you're cozy in bed, and the mood strikes. To have sex or not to have sex? That is the question. You're nearly half asleep, so will getting all revved up make it harder for you to fall asleep afterwards? In fact, quite the contrary: getting it on can help you fall asleep and stay asleep. These are five totally scientific reasons why you sleep better after sex (and all the encouragement you need to act on those late night urges).
It seems counterintuitive that sex is the perfect sleep-inducing nighttime activity. After all, we've been told to avoid exercise before bed, get quiet, and lay still to get into our sleepy zone. Sex is basically the exact opposite. However, sex actually has a ton of hormonal benefits that prime your body for a deep, satisfying sleep – and these effects are even greater if you orgasm. In other words, get the big O now and get some big Zzzs later.
Ditch your white noise machine, pour out that glass of warm milk, and bid adieu to the sheep you've been counting each evening. Sex is a more effective and much more fun way to help you drift off.