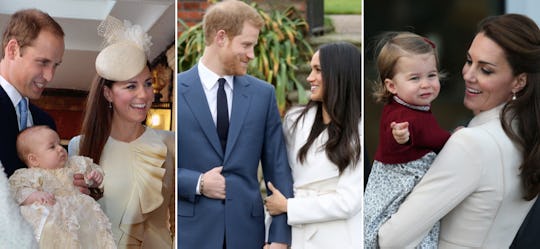 WPA Pool/Getty Images Entertainment/Getty Images/ Chris Jackson/Chris Jackson Collection/Getty Images/ Chris Jackson/Chris Jackson Collection/Getty Images
5 Royal Baby Name Rules & Traditions That May Inspire Prince Harry & Meghan Markle
It goes without saying that there are a lot of royal rules and traditions out there, and that's especially true for royal baby names. It's probably unacceptable for a member of the royal family to choose a baby name at random, for instance, or to go for something completely unique. But wait — those are just a few examples. Here are five royal baby name rules and traditions that the royals supposedly follow.
Before Prince Louis made his debut in April, there was a lot of talk about what his name would be. The same phenomenon is playing out again with Meghan Markle and Prince Harry's baby-to-be, who is due very, very soon, presumably sometime in late April or early May. In fact, there are loads bets on the little one's name, and some popular guesses include, according to Business Insider: Alexander, Alice, Victoria, and James.
As you might have noticed, the aforementioned names are pretty traditional. And if you've followed the royal family closely throughout the years, you probably already know that are a few rules that ensure royal baby names don't stray too far from the norm. Tradition reigns supreme in the royal family, after all.
So, what are some baby naming traditions the royal family sticks to? Some might surprise you.