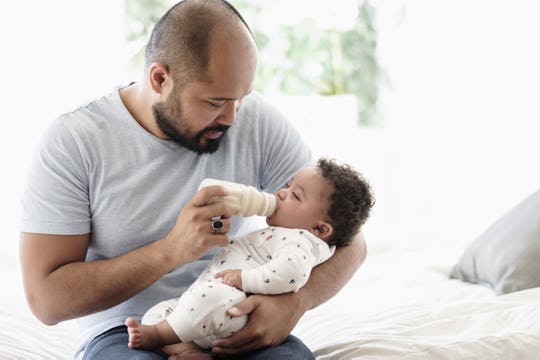 Amble Design/Shutterstock
5 Scientific Facts That Will Help You See The Good Side Of Supplementing
The debate between breastfeeding and formula feeding is a huge one in the mommy wars, despite the world's best efforts to remind people that a fed baby is the best kind of baby, regardless of how you get there. But for moms who are pulling double duty, both supplementing and breastfeeding, the war can be even harder. People insist they aren't trying hard enough, they're being lazy, and eventually that gets to a mom's head. But if you know some scientific facts that will help you see the good side of supplementing, you can banish those negative thoughts.
No matter why you have to supplement — whether it's because your baby was losing weight or because you needed help as you increased your breast milk supply — it's important to remember that you're doing the best possible thing you can for your baby. If your heart was set on exclusively breastfeeding but you needed some help, keep reminding yourself that you're putting your baby's health above your wishes and desires. If you weren't sure about breastfeeding but are now doing both so you can make sure your baby gets the nutrients they need while still having enough to eat, remind yourself that you aren't being selfish.
It's all about perspective, but science helps. These five scientific facts will help you see the good side of supplementing, proving that all of those dirty bottles and breast pads are worth the effort.