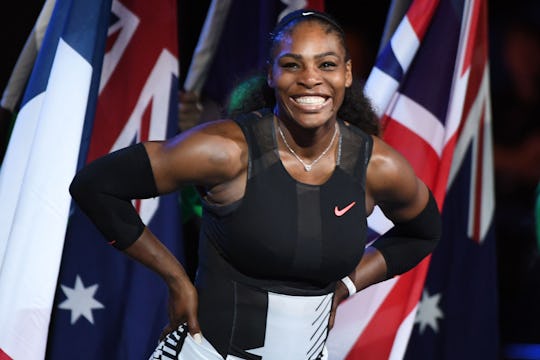 WILLIAM WEST/AFP/Getty Images
Serena Williams' Quotes About Her First Pregnancy Prove That She Loved The Ride
Serena Williams and her fiancé Alexis Ohanian welcomed a baby girl earlier this month and the world has just been enthralled ever since. The two have since spoken many times on what parenthood has been like for them. And even before they welcomed their bundle joy, Serena Williams has spoken about her first pregnancy on many occasions. And all of her quotes on the subject show that she loved being pregnant almost as much as she loves being a mother.
Williams first announced her pregnancy this April, revealing that she discovered she was pregnant two weeks before playing against her sister Venus Williams in the final round of the Australian Open. The tennis pro actually announced the exciting new accidentally on Snapchat by sharing a photo captioned "20 weeks." She quickly deleted the photo, but it was too late. The public had caught word and her publicist confirmed the announcement later that day, according to Vanity Fair.
Fast forward a few months later, Williams posted a photo to her official Instagram a few days after she gave birth to her daughter simply captioned, "Meet Alexis Olympia Ohanian Jr." She also shared a two-minute long video of her pregnancy experience entitled, "Hello, world," which shows the tennis pro at various stages of her pregnancy, along with cameos of Ohanian.
Since word got out, Williams has not shied away from commenting on her pregnancy and impending journey into motherhood. She has touched on the innate strength of women, the power that comes with pregnancy, and much more. Let's take a look at some of her best pregnancy quotes.
1. On The Strength Of Women
Back in August, Williams spoke with Vogue about her pregnancy and the power of women. She shared that she knew she was having a girl because of how resilient the baby was. She told the magazine:
Two weeks after we found out [I was pregnant,] I played the Australian Open. I told Alexis it has to be a girl because there I was playing in 100-degree weather, and that baby never gave me any trouble. Ride or die. Women are tough that way.
2. On The Power That Comes With Pregnancy
In that same Vogue interview, she talked about going back to playing tennis. Rather than hinder her talent in any way, she said that she believes that pregnancy has only added to her power on the court:
I used to think I'd want to retire when I have kids, but no. I'm definitely coming back. Walking out there and hearing the crowd, it may seem like nothing. But there's no better feeling in the world... If anything, this pregnancy has given me a new power. I think I've had a love-hate relationship with the idea of power... Not only me, but women in general sometimes feel that "power" is a bad word.
3. On Loving These 9 Months
Pregnancy can be rough, that's no lie. But, despite the complications that Williams experienced, she's said that she enjoyed the experience overall. Many women have a love-hate relationship with being pregnant, but not Williams. She told E! News:
I have been really fortunate and I have had a really good pregnancy, and everything has just been really good. Sometimes I am walking in my house, and I'm like, "I really like being pregnant." I never thought I would say that. I am definitely [the type] that enjoys it.
4. On Truly Wanting Her Baby
Finding the "perfect time" to have a baby is downright impossible. Williams told Vanity Fair during the same interview that she was surprised by how ready she felt once she was pregnant. She also explained a feeling that is common to many mothers: that your pregnancy speeds by. She told the magazine:
I knew it was coming. I was like, "Serena, you're 35, you're ready. This is what you want." If you would have told me last year in October or November that I would have a baby, not be pregnant but have a baby, I would have thought you were the biggest liar in the world. This is kind of how I am right now. This is happening sooner than later, and it's going by so fast.
5. On The Anticipation Of Meeting Her First Child
In an emotional Instagram post, Williams wrote a love letter to her growing baby and shared how excited she was to meet her little one. She wrote:
My Dearest Baby, You gave me the strength I didn't know I had. You taught me the true meaning of serenity and peace. I can't wait to meet you. I can't wait for you to join the player's box next year, but most importantly, I am so happy to share being number one in the world with you.... once again today. On @alexisohanian bday. From the world's oldest number one to the world's youngest number one. -Your Mommy.
Pregnancy is just the first part of the long adventure that is motherhood. And for Williams, it's clear that she cherished each unique step of it.
Watch Romper's new video series, Romper's Doula Diaries:
Check out the entire Romper's Doula Diaries series and other videos on Facebook and the Bustle app across Apple TV, Roku, and Amazon Fire TV.