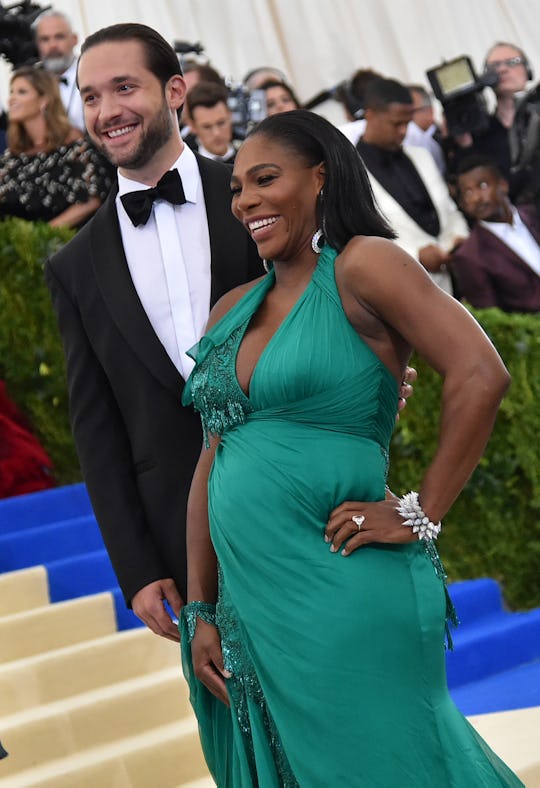 Mike Coppola/Getty Images Entertainment/Getty Images
Here's What We Know About Serena Williams' Pregnancy Complications
Fans of Serena Williams have had plenty of opportunity to follow along with the tennis champ as she and fiancé Alexis Ohanian prepared to welcome their first child into the world, and on Wednesday morning, she shared a glimpse of her baby girl, Alexis Olympia Ohanian Jr., on Instagram for the first time. But in her post, she admitted that it hadn't exactly been an easy road. What pregnancy complications did Serena Williams have? According to People, Williams said she didn't get to take her daughter home until nearly a week after her birth.
Williams gave birth to her baby girl nearly two weeks ago, but it sounds like the couple's introduction to parenthood was anything but smooth. On Instagram, Williams shared a gorgeous photo showing her cuddling with her beautiful newborn — who actually shares a name with her Reddit-founding daddy — and it looked like pure new-mom bliss. But in addition to the photo, the couple shared a video on their various social media channels in which the tennis star could be seen holding her little girl as they prepared to take her home from the hospital. In the clip, Williams said they were "leaving the hospital after six, seven days? It's been a long time," adding that they'd "had a lot of complications." But it didn't seem to be dulling their new-parent joy: as she gazed lovingly at her newborn, Williams said, "but look what we got. We got a baby girl."
Williams hasn't yet specified exactly what those complications were, but little Alexis definitely appears to be doing well. At the end of the video, the new parents shared her birth stats — she was born Sept. 1, weighing 6 pounds and 14 ounces — and unlike most newborns, she also already has a pretty cool achievement under her belt. After listing her name, birth date, and weight, Williams and Ohanian wrote "Grand Slam Titles: 1," in a tribute to the fact that Williams was actually already pregnant when she won the Australian Open in January.
The too-cute video also captures some of the sweetest moments of the couple's road to parenthood. It begins with an early ultrasound in which the doctor confirms that Williams is indeed pregnant, and shows the excited mom and dad-to-be chatting to their baby in a variety of different clips — when Ohanian felt her kick for the first time, for example, or when they were practicing their swaddling skills by wrapping up their dog. The video also includes a number of Williams' bump progress photos, including her 20-week snap, which she had accidentally posted to Snapchat back in April, inadvertently sharing her pregnancy news with the entire world.
In general, there are lots of reasons why a newborn may not come home right away, and while extended hospital stays are most often a result of a baby being born prematurely, according to KidsHealth.org, other unforeseen issues, like anemia, jaundice, or an infection could occur after delivery that would require additional medical care. But it's also possible that Williams could have faced delivery complications herself: according to WebMD, some of the more common types of labor and delivery complications include failure to progress, problems with the umbilical cord, or preeclampsia, where high blood pressure could cause serious complications for both mom and baby.
For now though, Williams hasn't specified — and, of course, she has every right to keep the details private. But one thing that does seem clear is that she and Ohanian appear to be two seriously excited and in-love new parents. And if their social media game up to this point has been any indication, hopefully Williams' posts will be only the beginning on many more adorable family photos and videos to come.
Watch Romper's new video series,Romper's DoulaDiaries:
Check out the entire Romper's Doula Diaries series and other videos on Facebook and the Bustle app across Apple TV, Roku, and Amazon Fire TV.