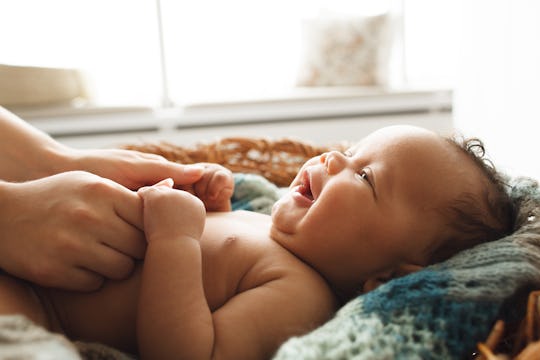 Golubovy/Shutterstock
5 Signs Your Baby Is Excited & Just *Thrilled* With The World Around Them
I've heard a lot of people talk about how fussy their babies are. Parents rant and rave about incessant crying or their inability to soothe a cranky babe, but it is definitely more rare to hear a parent gushing over how excited their baby gets. "My son gets so excited that he squeals with delight when he sees our dog," is not a brag you read on social media very often. Focusing on the negative rather than the positive is pretty normal these days, but looking for these five signs your baby is excited might just make your day a bit brighter.
"Babies express excitement because they're constantly learning and growing," says Maureen Healy, The Emotionally Healthy Child, and child development expert at Growinghappykids.com. "Parents can play games like peekaboo, tickling, or tummy time (with appropriate developmental baby toys) to help their baby express their excitement constructively. The goal is for every parent to be engaged and a constant source of unconditional love (to the best of our ability, of course ⁠— we're all human!)."
No matter how your baby shows excitement, just knowing that they're experiencing the pure joy that comes with experiencing the world for the first time is priceless. Be sure to enjoy these five signs your baby is excited before they hit toddlerhood and throw a whole new set of behaviors at you.