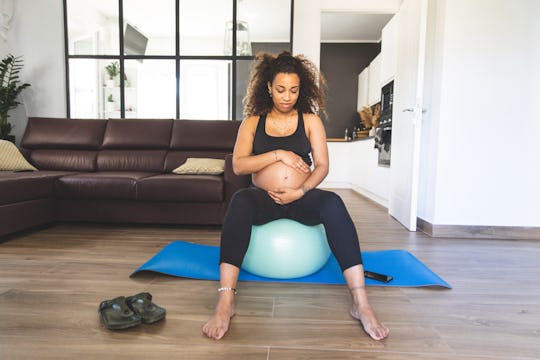 LeoPatrizi/E+/Getty Images
5 Early Signs Your Baby Is Going To Be Breech
As your due date approaches, the number of exams you experience will increase. They're annoying, sure, but they also ensure your labor and delivery goes as smooth as possible by checking for potential issues. For example, there are more than a few signs your baby is going to be breech that can help you and your health care team prepare for childbirth as best as humanly possible.
A baby is considered breech when their "buttocks, feet, or both," are positioned to come out of the birth canal first, according to the American College of Obstetricians and Gynecologists (ACOG), which the organization reported happens in approximately 3 to 4% of full-term births. But, a breech position doesn't mean you can't have a safe delivery.
"Breech babies can be safely delivered either vaginally or by cesarean section," Dr. Michael Cackovick, M.D., a maternal fetal medicine physician at the Ohio State University Wexner Medical Center, tells Romper. "The limiting factor with vaginal delivery is physician experience and skill, so that is a conversation that you must have with your physician once the breech is diagnosed in the late third trimester. Unfortunately, this is a declining skill set in the United States."
Not all breech babies present the same, however. Three different types of breech positionings are possible, according to a report by the University of Michigan Health System — completed breech, frank breech, and footlong breech. Each breech position comes with its own set of concerns for care providers.
"Confirming that a baby is down by 36 weeks is good news if you are hoping for a vaginal delivery," Megan Davidson, author of Your Birth Plan: A Guide to Navigating All of Your Choices in Childbirth, tells Romper. "If a baby is still breech, meaning not head down in the birth canal, which occurs about 3 to 4% of the time, then you may be offered the option of attempting an external cephalic version (or 'version'), where an OB or midwife manually turns a baby into a head-down (vertex) position."
Rest assured, your OB-GYN or midwife will be studying the position of your baby in order to assess the risks, consider childbirth options, and, in some cases, work to successfully turn your baby. So with that in mind, here are a few early signs that you might be in for a breech birth.
This article was originally published on