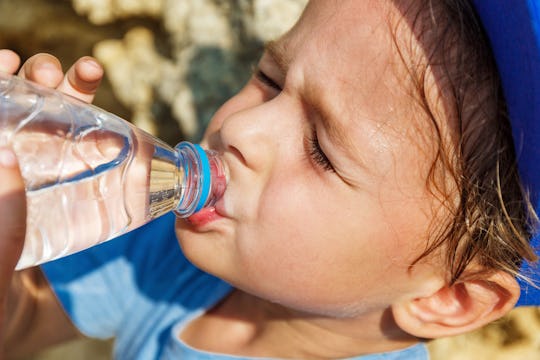 gorov/Fotolia
Here's How To Tell If Your Kid Is Overheating Because The Signs Are Easy To Miss
While it's much easier to get your kid out the door in the summer than the winter (multiple layers of outerwear, boots, and mittens vs. flip flips and a t-shirt), the heat can be just as potentially dangerous to children as the cold. Frostbite is off the table, sure, but it's surprisingly easy for kids to develop such warm weather complications as heat exhaustion, heat cramps, and heatstroke. But what are the signs that your child is overheated? You might think you'd be able to tell right away, but the symptoms can be surprisingly easy to miss.
For one thing, you can't always use the way you're feeling as a measuring stick for how hot your kid might be. "Because of their unique physiology, children are more susceptible to temperature extremes and their health effects," according to the American Academy of Pediatrics.
"Children are less able to regulate their body temperature compared with adults. As a result, children are more likely to develop significant health effects when they are exposed to environmental temperature extremes."
So while you might be feeling a little extra sweaty or sluggish, your kid might be experiencing more severe symptoms — and you might not even know it. (Also, just because you're not out in the blazing sun doesn't mean your kid is in the clear: Children can overheat indoors, too, if it's hot enough.) Here are the signs to watch out for the next time a heat wave hits.