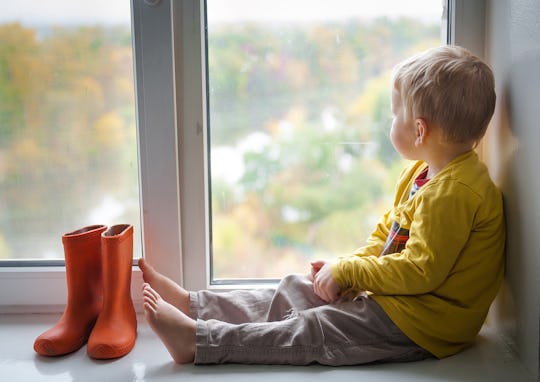 Sharomka/Shutterstock
Here's How To Tell If Your Toddler's Not Socializing Enough
As a parent, it's no surprise that you often come across some really complicated issues. There are so many things that you get confronted with out of the blue and are expected to instantly know how to handle it. Like tantrums, teaching right from wrong, discipline, the list goes on. But one of the most difficult things is helping your child adapt socially. Teaching your kids to navigate complicated social situations can be difficult at any age, but trying to help your toddler deal is a whole different ball game. So, here are some signs your toddler needs to socialize more, according to experts. I checked in with education specialist and member of The Goddard School Educational advisory board, Lee Scott; early education expert and consultant and founder of Sunshine Preschool in Hopkinton, MA, and author of You've Got This! Keys To Effective Parenting For The Early Years, Christine Kyriakakos Martin; and program coordinator for intellectual and developmental disabilities and mental health at Providence Saint John's Child Development Center in Santa Monica, CA, Dr. Mayra Mendez, to hear the clues your little one could use some more real life face time with peers.
Kids do awkward and embarrassing things sometimes. In fact, it's almost like they're trying to embarrass us in public on purpose. There have been several times when my son and I would run into our neighbors in the elevator and instead of responding to their very polite, "Oh, hello" like a normal child or, you know, human, he would instead pretend he was a robot or *insert large cat species here* and give them his best robot voice or big hiss/roar combo — talk about socially awkward.
Who knows why kids do some of the things they do, but as parents, it's our job to teach them manners, empathy, and help them learn complicated things like negotiation and compromise. Regardless of whether your child experiences some social anxiety or not, the good news is there are things we can do to help our children adapt. Scott tells Romper, "The best thing to do is to prepare your child. Talk about what you are going to do, what she'll see, who will be there, and how much fun it will be. Give your child time to adjust upon arrival. Talk to the other children or adults with your child." It's a relief to know that there are things we can do to help our kids adapt better, but here are some common signs that they may need some extra time adjusting.