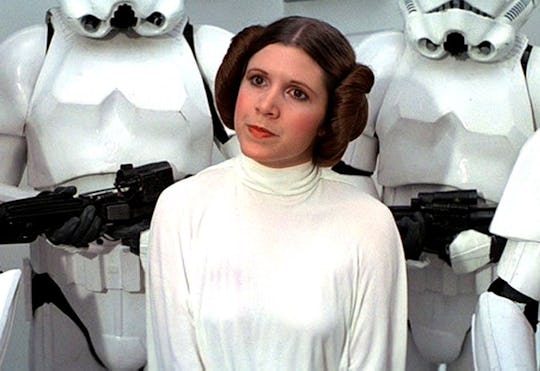 Lucasfilm
5 'Star Wars' Costumes For Pregnant Women That Are Perfect For Any Galaxy
Being pregnant can make finding the perfect Halloween costume difficult. Depending on how far along you are, certain costumes are almost impossible to pull off — wearing a mermaid tail comes to mind immediately. But if you're a fan of Star Wars, you could be in luck. Many of the costumes involve cloaks, and are perfect for accommodating your belly. If you're an expectant mama and want to show your love for Star Wars this Halloween, you should check out these ideas for Star Wars costumes for pregnant women that will make you the hit of your Halloween party.
Before any of the Harry Potter or Hunger Games films came on to the scene, there was Star Wars, which Forbes called Hollywood's biggest original franchise in history. And even if you've never seen a single film, you're undoubtedly familiar with at least some of the iconic characters that have helped make Star Wars the cultural phenomenon it is today. Set "long ago, in a galaxy far, far away," Star Wars has something for the entire family. Part love story, part action adventure, audiences have been eager to absorb any and everything related to Star Wars for over 40 years.
Whether you're Team Darth Vader or Team Han Solo, you can make your own maternity version of a costume honoring your favorite character from these classic films that will make you the envy of all of your lightsaber-wielding friends. So use the Force and put together one of these cool looks this Halloween. You'll love them so much, you may find yourself wanting to wear them until Thanksgiving.