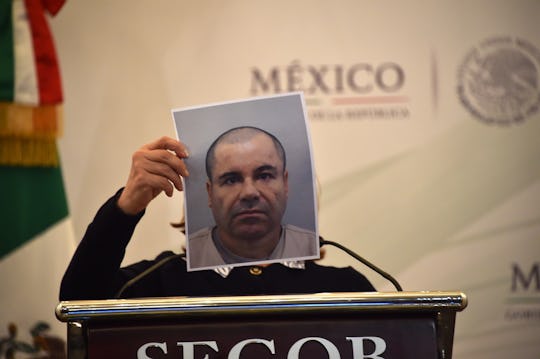 Yuri Cortez/AFP/Getty Images
5 Strange Quotes From Sean Penn's El Chapo Interview For 'Rolling Stone'
Joaquin Archivaldo Guzman Loera, commonly known as "El Chapo," is the head of Mexico's Sinaloa drug cartel and thought to be the most powerful drug trafficker in the world. He is also the subject of a recent interview with actor, film maker, and activist Sean Penn, who went through great lengths to earn the trust of and meet with the famed drug kingpin who was then on the run. The strangest quotes from Penn's interview with El Chapo that reveal a little bit about the mysterious drug leader.
Penn details the entire account of the clandestine trip to Mexico that brought him face to face with El Chapo for Rolling Stone magazine, including a rather brief interview with the cartel leader. The interview was originally planned as a two-day in-person interview between Penn and El Chapo, but due to El Chapo's status as a fugitive and the increasing violence and instability that followed him as he stayed on the move, he was only able to film himself answering a series of questions Penn had sent through a Blackberry Messenger device, according to Rolling Stone.
For those interested in El Chapo, reading Penn's entire account is a must: from how he first made contact with individuals who knew the drug lord (including Mexican actress Kate del Castillo), to the various devices that were needed in order to make communications untraceable (or at least as difficult to trace as possible), all the way to the lengthy and ominous journey into and out of El Chapo's secret location. Penn didn't try to demonize the drug lord, nor did he make El Chapo seem like a complete innocent; rather, he used the piece to get as many words straight from the horse's mouth for the first time. So far, this is the only interview El Chapo has ever given to a journalist. Penn also utilized the piece to trash the U.S. "War on Drugs," which he claimed costs taxpayers $25 billion per year.
Here are five of the strangest quotes from Penn's interview with El Chapo.