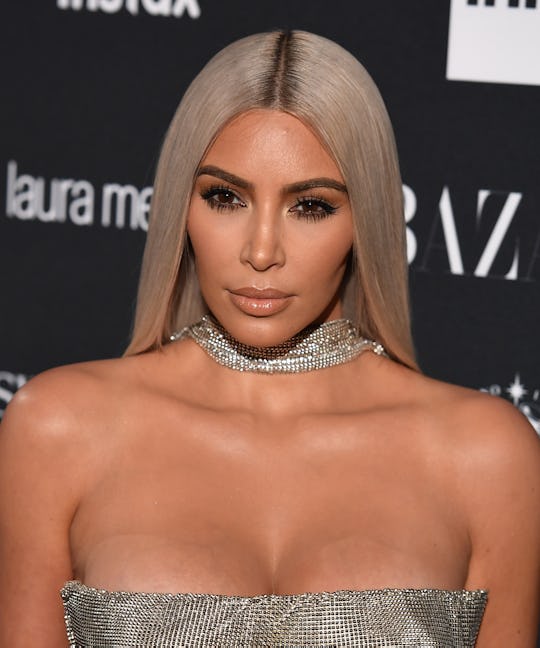 ANGELA WEISS/AFP/Getty Images
5 Theories About Kim Kardashian's Surrogate Because We *Need* Answers
With a new Kardashian baby (or three) on the way, it's perhaps not surprising that Keeping Up with the Kardashians have already started concocting a few wild theories about Kim Kardashian's surrogate and the details surrounding her third baby. Kardashian recently seemed to confirm the pregnancy in a preview of the next season of the reality show, according to CNN, telling sister Khloé, "What happens every time I say, 'Guess what?' We're having a baby!" Other than that, however, Kardashian has mostly remained mum — which means fans have had to sniff out clues and come up with theories of their own.
Considering that sisters Khloé and Kylie Jenner are allegedly pregnant as well, the rumor mill has definitely kicked it into high gear. From clues that sound suspiciously likely to fan theories that border on "moon landing in a film studio" explanations, fans have certainly been busy trying to figure out the details of Kardashian's reported pregnancy.
For your entertainment (and education), here's a round-up of all the theories and clues surrounding Kardashian's surrogate and pregnancy, including both the outlandish and the reasonably plausible. Enjoy (because I certainly did):
Kardashian's Surrogate Is Pregnant With Twins
Kardashian totally fanned the flames of the fire earlier this week when she asked her Twitter following, "Anyone know who makes the best double stroller? Not a tiny compact one but regular size."
Her fans immediately launched into interrogation mode, asking Kardashian whether her surrogate was expecting twins. Kardashian quickly backtracked, tweeting, "I have two kids people!!!! LOL."
Either Kardashian was setting the record straight, or she was covering up the fact that she's expecting twins. Either way, fans are super intrigued — and the theory has taken on a life of its own in headlines and on social media.
Kris Jenner Totally Orchestrated This, Yo
Kris Jenner: family matriarch and reality TV show mastermind? According to some fans, Kris made sure three of her daughters all got pregnant at the same time in order to ensure the everlasting reign of Keeping Up with the Kardashians. (Having three babies, of course, was especially essential in order to outshine Beyoncé's twins, of course.)
I'll file this theory under "highly unlikely," because if true, man, is that some commitment to TV ratings.
Kylie Is Actually Kardashian's Surrogate
When both Kardashian and Kylie's reported pregnancies hit headlines at the same time, people jumped to the (fairly logical) conclusion that Kardashian's younger sister must be cooking her baby for her. After all, who best to care for a growing fetus — and guard secrets about the pregnancy — than a sister?
Actually, Wait, No, Khloé Is Kardashian's Surrogate
During the season finale of Keeping Up with the Kardashians in June, according to Marie Claire, Kardashian told Khloe: "I have a proposition for you. I'll give you the embryo; you carry the baby, then you give it back to me."
Khloé said that doing something like that would be a "huge decision," but she still went to the doctor to see if it would be possible.
This theory actually seems pretty plausible. I might even put money on it.
Kardashian's Surrogate Is Having A Girl
Rumor has it that Kardashian's surrogate is having a girl. Same goes for Kylie's baby — leading some to believe the Kardashian-Jenner clan are simply building an army and raising the next generation of Kardashian girls to rule the world.
Kardashian's surrogate is reportedly due before Christmas, according to Us Weekly, and personally, I hope that's true. Otherwise, fans may actually drive themselves a little bit insane with all of these theories. (After that, then there's only a couple more Kardashian-Jenner pregnancy mysteries to solve — but hey, progress, right?)