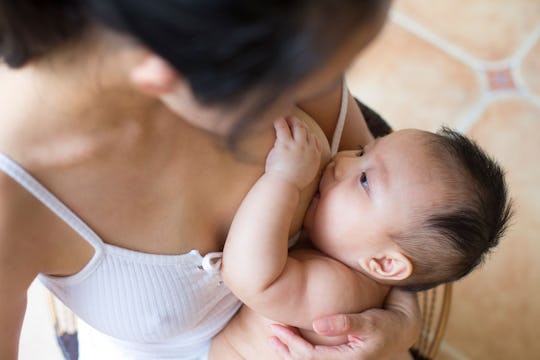 Bo Bo/Stocksy
5 Things You Should Do Before Baby Arrives To Make Breastfeeding A Success
New moms can sometimes be unpleasantly surprised by how tough breastfeeding it is. Even veteran moms can be thrown for a loop when their second child doesn't take to nursing as well as their first. Giving you and your baby the best possible chance at a strong breastfeeding relationship starts well before they're born, however. In fact, there are a few things you should do before baby arrives to make breastfeeding a success.
The most recent statistics from the Centers for Disease Control and Prevention show that about 60 percent of mothers quit breastfeeding sooner than they intended. Some of the biggest reasons include issues with milk supply and proper latching. It may surprise you to hear, but you can actually start working on addressing both of those issues before your baby is born. I spoke with Danielle Downs Spradlin, a certified lactation consultant, about what moms can do before they give birth to get ready for breastfeeding; below, she shares the techniques to learn and resources to research before your baby comes along that will give you a leg up — because knowledge is power, after all.
Follow these five tips, and both you and your baby will both reap the benefits.