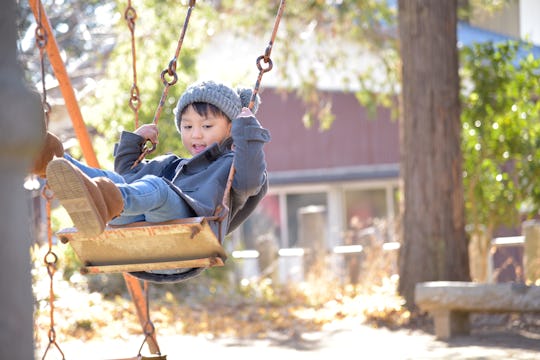 Shutterstock
Here Are 5 Things Doctors Really Want Parents To Know About Swings
Swings are a staple of childhood. Nothing can beat the excitement of soaring through the air with nothing but a narrow 4-inch seat under your tush and two chains to cling to for dear life. While swings can be a ton of fun on the playground, they can also be pretty dangerous, too. That's why there are things your doctor wants you to know about swings to keep your kiddo safe.
Who hasn't tried to do a mid-air twist while leaping off of a swing? (No self-respecting swinger I know.) After all, it's almost uncool to wait for the swing to come to a full stop and then slide off of it cautiously. No, in most cases, jumping off of the swing while it's almost parallel to the crossbar is the way to work it. But it's exactly that scenario that gets kids sent to the emergency room with broken bones, concussions, and worse. The Centers for Disease Control and Prevention (CDC) reported that over 200,000 children ages 14 and younger go to the emergency room for playground-related accidents every year. And as for home playgrounds, swings incur the most injuries.
So how can you keep your little swinger safe without sabotaging his good time? Pediatrician Dr. Cherilyn Cecchini offers the following insights into swing safety.