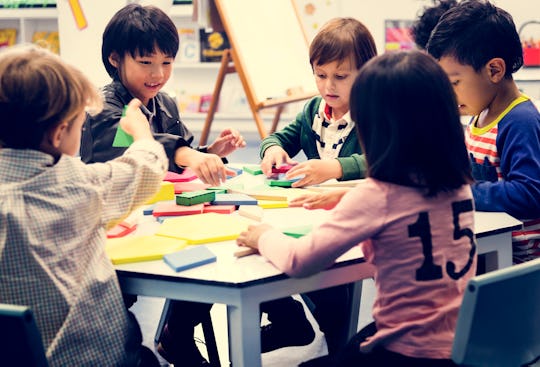 Shutterstock
Here Are 5 Things Your Kid Will Probably Do On The 1st Day Of Kindergarten
With your child's first day of kindergarten right around the corner, it's completely normal for there to be a full range of feelings taking place, from excitement to nervousness and everything in between. Heading off to kindergarten is a big milestone, after all. Your baby is growing up! But what are some things your kid will do on the first day of kindergarten? I remember fielding inquiries left and right from my daughter about what her first day would be like, which were natural questions that I did my best to answer by recounting my own experience. It was only 35 years ago, after all... surely things hadn't changed that much?
You can help prepare your child (and yourself!) for kindergarten by reading books with your child that center around school, picking out a special "first day of school" outfit and practicing your morning routine ahead of time, as recommended by Parent Map. If there is an opportunity to meet your child's teacher and any kids that will be in the same class, take advantage, as that will help ease any separation anxiety that may occur, according to Parents. I love the life lessons quote from Robert Fulghum's All I Really Need To Know I Learned in Kindergarten, that still rings true today:
Live a balanced life - learn some and drink some and draw some and paint some and sing and dance and play and work everyday some.
Sounds good to me, right? Now, back to that original, valid question of what your child will actually be doing on their first day of kindergarten. Here's a refresher, even though it's true, some things haven't changed all that much in 35 years.