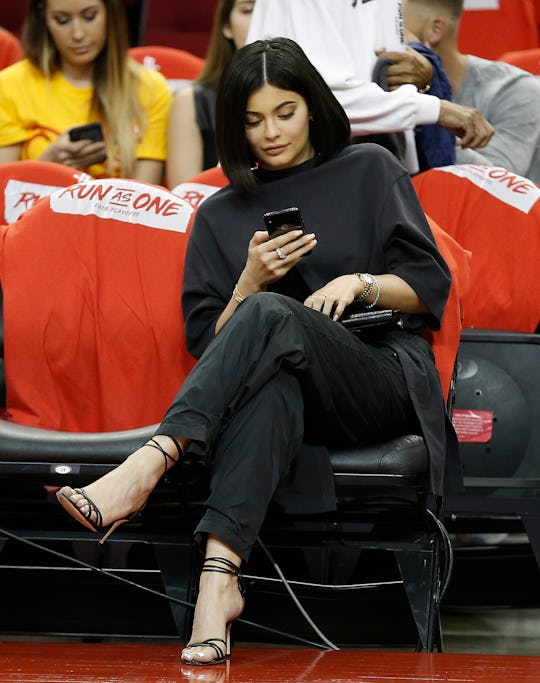 Bob Levey/Getty Images Sport/Getty Images
5 Times Kylie Jenner Proved She's Totally Loving Life As A Mom Her Own Way
Sometimes actions really do speak louder than words. This seems to be the case with Kylie Jenner. She might not be shouting her love for her little baby girl, Stormi Webster, from the rooftops, but anyone who follows her on social media knows she's happy. Truly, deeply happy about having a baby. There have been loads of times that Kylie Jenner proved she's loving life as a mom; she's just going about it in her own way. In other words, Kylie Jenner is somehow managing to subtly redefine motherhood, and it's sort of amazing.
The 20-year-old Lip Kit mogul surprised pretty much everyone, everywhere when news was leaked last September by TMZ that she was expecting her first child with her boyfriend, rapper Travis Scott. Then she kept everyone wondering for nearly six months if she actually was pregnant by keeping off social media and swearing her family to secrecy, according to Refinery 29.
When Kylie gave birth to daughter Stormi Webster on Feb. 1, she finally shared the news with her fans via an 11-minute video called "To Our Daughter." She also took to Instagram to explain why she wanted to keep her pregnancy private, and her message alone was enough to see that becoming a mom had changed her immeasurably.
Total Radio Silence
Kylie Jenner is arguably one of the most influential people on social media today. She has more than 107 million followers on Instagram, and then there was that time in February when she tweeted her displeasure at a Snapchat update and the company took a nosedive on the stock market the very next day. Kylie has spent the majority of her life in the spotlight on Keeping Up With The Kardashians since she was a 10-year-old. And yet she went to great lengths to avoid social media throughout her pregnancy because she wanted to enjoy "the most beautiful, empowering, and life changing experience I've had in my entire life."
The Pursuit Of Happiness
After Stormi was born in Los Angeles, a source close to the family told E! News that Kylie has "never been happier" and that she truly believes being a mother is "what she was put on this earth for." Anyone who has seen Kylie's most recent video, where she is cooing at her unbelievably adorable little girl and telling her over and over "I love you," knows that Kylie was right. She loves her happy baby, and she loves being a mom.
Hands-On Mom
Kylie reportedly wanted to avoid hiring a nanny after giving birth because she really wanted to do everything herself, according to People. But in the two months since bringing her baby into the world, she has apparently relaxed and realized it might take a village to raise a child. And she wants what's best for Stormi no matter what, even hiring a nanny and an assistant to help out, as a source told People, "She's incredibly doting and hands-on mom. She's always been very maternal."
Doing It Her Way
There's an old-fashioned trope that implies moms need to "behave" a certain way. Drop the fashion, focus solely on the baby, or be judged. Certainly don't go to Coachella with your sister Kourtney Kardashian when your baby is 2 months old. But Kylie is doing it her way; pushing a Fendi stroller in a Fendi dress on a sunny afternoon. Looking, as ever, just so happy and blessed to be Stormi's mom.
A Cool Mom
Kylie shared a picture of herself on her Instagram feed with bright pink hair and the caption, "I'm not a regular mom, I'm a cool mom." Of course, mom-shamers were on high alert thinking Kylie was daring to compliment herself. I guess they didn't see Amy Poehler's character in Mean Girls.
I guess I interpreted her post differently; I think Kylie Jenner simply likes to refer to herself as a mom. Because it seems to be the thing that makes her happiest these days. Spending time with baby Stormi, watching her grow. Clearly just loving the mom life.
Check out Romper's new video series, Bearing The Motherload, where disagreeing parents from different sides of an issue sit down with a mediator and talk about how to support (and not judge) each other's parenting perspectives. New episodes air Mondays on Facebook.