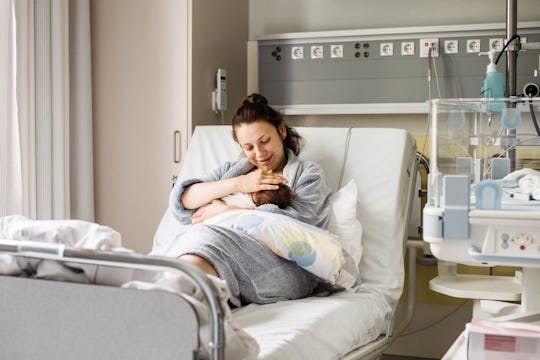 Irina Efremova/Stocksy
5 Practical Yet Meaningful Ways To Make Mother's Day In The Hospital Fun
Mother's Day is supposed to be a day when mom gets treated like a queen, whether her idea of the royal treatment involves breakfast in bed, a fancy brunch with bottomless bellinis, or just a couple of hours to herself to do whatever she wants. But what about the many, many moms who spend the holiday in the maternity ward or the NICU? It might seem like a challenge, but there are some totally practical yet meaningful ways to celebrate Mother's Day in the hospital.
Maybe she just gave birth, or maybe her little one showed up a bit sooner than expected and still isn't ready to come home. Maybe she's in the hospital for a reason that's not related to childbirth at all, like an illness of her own. Whatever the reason for her Mother's Day stay in the hospital, it's probably not where she wants to be.
"My daughter was born just before Mother's Day in 2012," Jennifer Degl, author of From Hope to Joy: A Memoir of a Mother's Determination and Her Micro Preemie's Struggle to Beat the Odds, wrote for the Huffington Post.
"She was born 17 weeks early, weighing just 1 lb. 4 oz. and was not even the length of a ruler. She was born way too early and was in critical condition. I spent Mother's Day in the NICU worrying about if she would live or die and I also had three other children at home who wanted to celebrate with me. Saying it was difficult is an understatement."
Many moms in similar situations probably don't even know if they feel like celebrating, or if it's even okay to want to enjoy the day. But there's no question that mom deserves to be celebrated, and these easy ways to show her that she's loved will most definitely brighten her day.