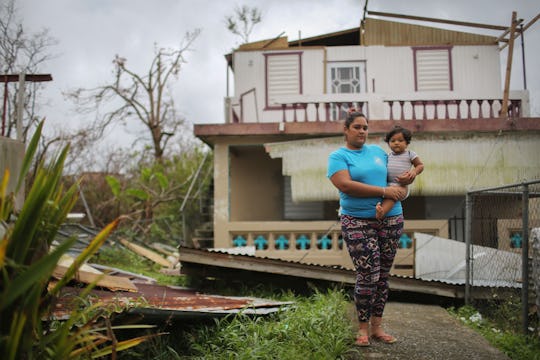 Mario Tama/Getty Images News/Getty Images
5 Ways To Help Puerto Rico Hurricane Victims This Thanksgiving — Every Little Bit Counts
The United States saw Hurricane Harvey and Hurricane Irma hit Texas, Florida, and adjacent states with a devastating impact. I'll be the first to admit, as a sixth-generation native Floridian, I used to only think about hurricane damage in a very limited, local scope. Yet, just a little over a thousand miles away, fellow citizens in the Caribbean have faced life-threatening conditions due to hurricanes, too. With the season of giving just beginning, it's never been a better time to embody the true nature of hospitality. Fortunately, there are quite a few different ways to help Puerto Rico this Thanksgiving, even from thousands of miles away.
According to the National Aeronautics and Space Administration (NASA), Hurricane Maria was, "the fifth strongest hurricane to ever hit the United States," because, yes, Puerto Rico is part of the United States and its citizens are fellow Americans. The category five hurricane is also arguably one of the worst ones to directly affect Puerto Rico in recent history. The flooding and wind damage has not only affected homes and businesses, but the lack of basic utilities — like clean drinking water and electricity — has had dire consequences for the entire island and its occupants.
Regardless of your location, budget, or ability, there are many ways to help Puerto Rico this Thanksgiving season. Here are just a few ways how, and just remember, every little bit counts.