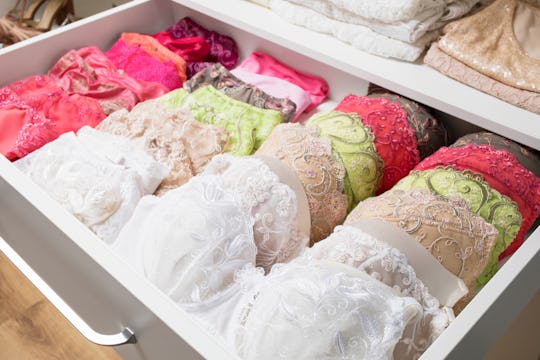 Kaspars Grinvalds/Fotolia
5 Ways To Respond When Your Boobless Daughter Asks For A Bra
Buying your first bra is a rite of passage for many girls. I remember my first bra vividly. My MawMaw noticed I was developing and took me out to JCPenney and bought me the most hideous white sports bra in all the land. It squeezed my forming breasts so tightly I think it pushed them between my ribs, but I was so proud. If your tween has been inquiring about a bra, you may be tempted to ignore the request, but knowing some ways to respond when your boobless daughter asks for a bra can be more helpful.
It's important to note that the desire for a bra is as much psychological as it is about comfort and support. The pressure on girls to grow up younger and younger is enormous, and often, that means the trappings of cis womanhood like bras and shaving. While not every girl wants these things, plenty do, and it's important to handle the situation with compassion and care, whether you're letting them down gently, or encouraging them to express themselves with agency over their underwear choices.
For me, nothing is better than "screw this bra o'clock," which is the precise time I unsnap my bra and yank it off as fast as you can say "cabernet, please." But I understand that many girls are eagerly anticipating this milestone in their development. However, they may grow to loathe it in the future, and let's face it, they'll loathe that piece of laundry as much as we do. Being prepared for the conversation is half the battle, so I've worked out some strategies.