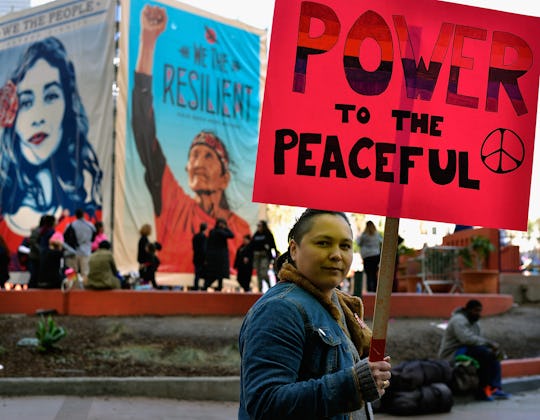 Chelsea Guglielmino/Getty Images News/Getty Images
5 Ways To Support Native Moms On International Women's Day
On March 8, women around the world will celebrate International Women's Day with marches, protests, days off from work, and social media posts about the status of women in 2018. But for those of us who want be intersectional, it's important to recognize that Native women have unique histories, struggles, concerns, and stories that absolutely need our collective attention. That's why we may need a different approach to the day as a whole, so we can better support native moms on International Women's Day.
Romper spoke with a number of Native women to hear their thoughts about how we can better support Native moms. Like Cathi Warren, an adjunct professor of Native American Studies at University of Nebraska Omaha, member of the Chickasaw Nation of Oklahoma, and mom. She wants people to remember that Native women have historically faced, and currently face, serious challenges and barriers. She tells Romper via email, "Indian Health Services tend to be funded 30 percent less than the U.S. prison system, and that service was part of our treaties. Native women also have the highest rates of domestic violence." Anna Gammel, 20-year-old mom and member of the Omaha tribe, tells Romper via email about her struggles growing up in a society that largely ignores or stereotypes Native culture. She writes, "I was once asked if I grew up in a teepee and was told that I'm not 'truly native' because my name was Anna and not something like Bear Claw."
Despite these and other challenges, though, Native women are also emerging leaders, fighting to raise awareness and change the world and absolutely deserve our acknowledgement and support. To find out more about their history, experiences, and how you can support Native moms on International Women's Day, read on.