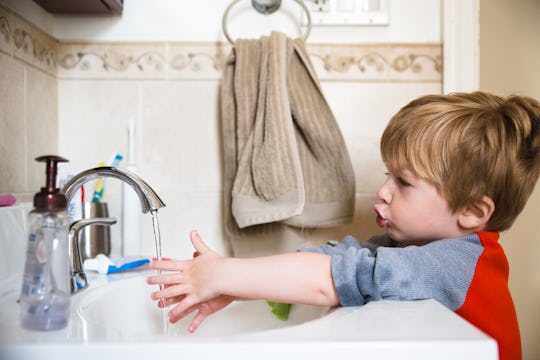 Cavan Images/Cavan/Getty Images
Here's How To Unclog Your Kid's Bathroom Sink Without A Plumber
It's an inevitable and unfortunate rite of passage for parents: your kiddo did a little more than just calmly wash their hands in the bathroom sink, and now it's clogged and barely draining. Maybe Barbie and her pals took a "bubble bath" in the sink, or somehow paint, glitter, or a bouncy ball ended up lodged in the drain. Too much hair or even floss or toothpaste are also common culprits, but regardless of how it happened, you're probably frantically wondering how to unclog your kid's bathroom sink. The good news is, it's not as hard or as gross as it sounds (and at least it's not the toilet).
Once you know the right steps to take, it's usually pretty simple and quick to unclog a bathroom sink, but one piece of advice from the pros bears mentioning upfront: Don't use chemical decloggers (like Drano or similar products). While they may seem like easy fixes, they typically do more harm than good.
"We replace piping that this product has damaged at a higher cost than it would have been for a homeowner to have their drain cleaned," Jennifer Kettner, owner of Pro Plumb NW, tells Romper. Read on for four things you can try at home before calling a plumber (and one thing you can skip). And more good news: If your kiddo just can't stop playing in the sink, they'll probably love the Hasbro game Plumber Pants.