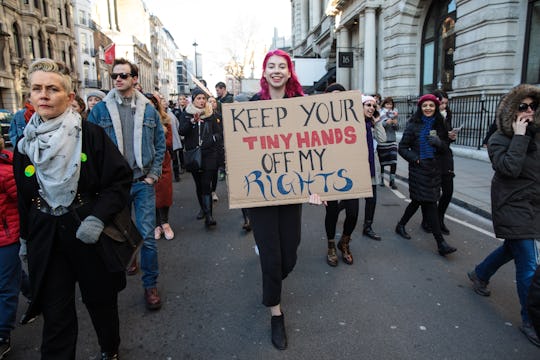 Jack Taylor/Getty Images News/Getty Images
5 Women's March Sign Ideas To Inspire Your Own, With Tons Of Examples
It's almost that time again: nearly a year has passed since President Donald Trump's inauguration and the very first Women's March on Washington, and women across the United States are gearing up to do it all over again. The past 12 months have seen a true women's movement sweep across the country, with #MeToo and #TimesUp taking over social media, more women than ever entering politics, and powerful men in every field facing consequences for sexual misconduct. If you're taking part this year, here are five Women's March sign ideas to inspire your own.
This year's event is set to be part celebration and part continued reckoning, and whether you're at the main event in Las Vegas, Nevada, or at a sister march in another state, it's easily going to be the place to be on Jan. 21. The theme of the anniversary event will be "Power to the Polls," and it's meant to launch the movement's initiative towards registering voters in swing states, engaging communities, and electing more progressive candidates (and women!) into office. It's a worthy cause and one that's deserves a kick-off with a massive, strong, and loud demonstration.
Since every great event deserves a little sparkle, you'll want to head to the rally with a sign that makes a statement. For inspiration, check out the Women's March sign inspo below, ranging from powerful to hilarious to thought-provoking.
Signs That Target Certain Politicians & Their Policies
Hey, politicians are meant to be held accountable. They're meant to represent the people, and if they don't, then they should be out of office. If a local politician, a senator, or even — ahem — a president are taking steps you disagree with, call them out on it. In sign form.
Pay Homage To The Real OGs
Whether Rosa Parks, Carrie Fisher, Maxine Waters, or another activist you admire, take inspiration from their words and actions. Whether historical or contemporary, there are so many people who have said it well that you don't have to come up with anything new — just pick your quotes wisely and hold that sign high.
Shout Your Beliefs
Remind those in power what matters to you. 2017 was a huge year for women's rights, and the United States finally started to see people who reportedly abused their power face real repercussions. It seems totally reasonable to link the successes we saw throughout the year to the powerful feminist march in January — so what kind of massive change do you want to see occurring in 2018? Put it on a sign and make it happen.
Use Humor As A Form Of Dissent
The humorous signs out there are usually fan favorites since they help relieve stress, highlight absurdities, and bring people together for a common cause. If you can find a humorous way to rally people around your chosen cause, do it. (Chances are people will share more pictures of your sign, too — which will help spread the word!)
Be An Awesome Ally
Not to quote High School Musical or anything, but we're all in this together. If the federal government's approach to LGBTQ rights, immigration, or health care has made you rage over the past year, let people know exactly where you stand.
To find a march near you, use the event finder on the Women's March website. Simply pop in your zip code and find an event (or multiple events!) that speaks to you. If you want to be at the center of the action, register to attend the rally in Las Vegas. Wherever you end up, hold that sign up high — and please share tons of pictures under the hashtag #PowerToThePolls.
Check out Romper's new video series, Romper's Doula Diaries:
Watch full episodes of Romper's Doula Diaries on Facebook Watch.