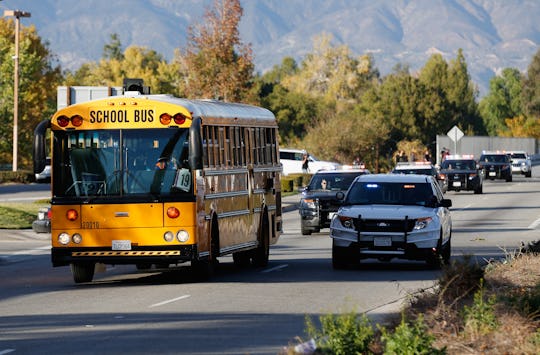 Sean M. Haffey/Getty Images News/Getty Images
5-Year-old Walked Home On The Road Because Of Bullies & It's Not Right
As parents and teachers work towards making schools a zero tolerance, bully-free zone, there remains one last frontier for kids who want to terrorize their classmates away from prying eyes; the school bus. With only one set of adult eyes (and they're meant to be watching the road), school bus drivers are often too busy or simply too outnumbered to deal with bullying on the bus. But it clearly has to stop, when a five-year-old boy walks on the road home from school to avoid school bus bullies.
According to his mother, Kathleen Hotard, five-year-old Kenneth was not on the bus when it arrived on Monday after school. The Houma, Lousiana mom told WWLTV:
"The driver opened the doors and my child was not on the bus," she said. "The driver informed me he was not there and that she didn't know where he was but that he had not gotten on the bus that day. You get this pit in your stomach because you don't know where your child is. You don't know if they're okay or if they're crying for you."
Young Kenneth had told his substitute teacher that his mother had given him a note to walk home from school. He told her that he had lost the note, and started to walk the wrong way home on the road (because he's only five, after all). Luckily, a passerby spotted Kenneth walking and reported it to the local police. He was found around a half-mile from the school, walking on a busy road alone.
Kenneth told Eyewitness News that he walked home to avoid school bus bullies, kids who had been pelting him with spitballs that "land on his ear." Hotard told WDSU that her son has not gone back to school yet and was utterly traumatized by the bullies.
"He doesn't want to be by himself. He urinated on himself because he was too afraid to go alone. He's having anxiety from this."
She went on to say that the school is taking the incident very seriously and has launched an investigation. The school superintendent also told her that what had happened to her son was "wrong" and Hotard couldn't agree more:
"I don't want any other parent to ever have to feel what I felt. I don't want any other child to be on a side of a road by themselves scared … I feel like accountability needs to be taken by the school, by the teachers, and by the school board. Things have to change."
As for Kenneth, he is ready to move on. He told his mother: "I'm ready to go to another school."
And how heartbreaking is that?
If you're worried about your child's safety from bullies on the school bus. here are a few tips that could help:
Tell your child to sit up front, close to the driver (bullies tend to prefer teasing kids away from prying eyes)
Encourage them to sit with friends, because there's safety in numbers
Enlist the help of an older child to help monitor the situation
Most importantly, keep the lines of communication open between yourself, your child, the bus driver, and school administrators.