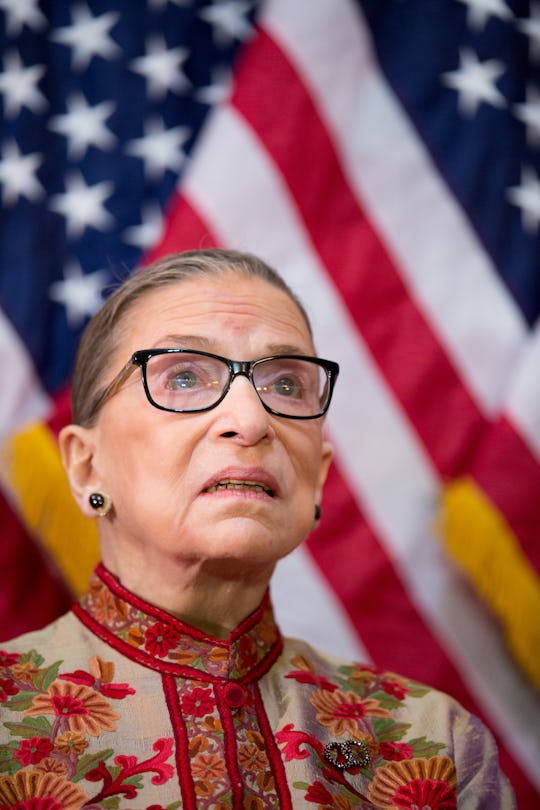 Allison Shelley/Getty Images News/Getty Images
6 Amazing Ruth Bader Ginsburg Quotes To Celebrate This Badass Feminist's Birthday
You know you've still got it when people create possibly the coolest hashtag ever for you, even when you're in your 80s. Ruth Bader Ginsburg, Supreme Court Justice, champion of women's rights, and supporter of marriage equality, was born on March 15, 1933. She is still kicking it something fierce these 83 years later, earning her ironclad reputation as a no nonsense, straight shooting woman of substance. It's also earned her the fabulous hashtag #NotoriousRBG and a loyal following of proud feminists around the world. To honor the Notorious RBG's birthday on Tuesday, it would only be appropriate to share some of Ruth Bader Ginsburg's most amazing quotes (consider it an education in general feminist badassery for the masses).
Born to a working-class Jewish family in Brooklyn, New York, Ginsburg credits her mother Celia for instilling in her a deep respect for education and independence. Celia was unable to obtain an education of her own, but made sure her children would have better opportunities, something Ginsburg never forgot.
Throughout her life as a lawyer, a justice, a wife, a mother and a woman, Ginsburg has remained staunch in her beliefs, even when it wasn't especially popular, doing so with her particular brand of moderation and restraint. Ginsburg proves that it isn't always the loudest voice in the room that gets heard. Sometimes, it's the strongest.
Ginsburg was appointed to the Supreme Court by President Bill Clinton in 1993, and in 1996, she wrote the Supreme Court's landmark decision in United States v. Virginia, saying the state-supported Virginia Military Institute could not refuse women looking to join its ranks.
One of Ginsburg's greatest qualities? Despite her tiny little 5 foot tall frame, she owns every room she enters. In honor of that fighting spirit, here are a few of her best quotes from over the years.