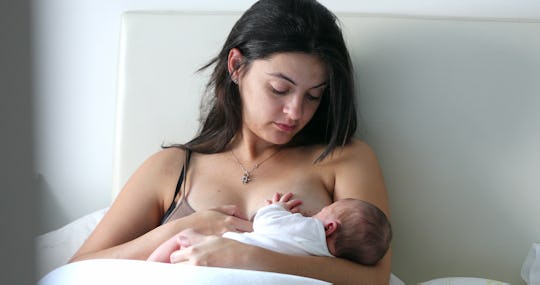 Shutterstock
Hand Expressing Breast Milk Can Have Major Benefits For You & Baby, Experts Say
If you plan to breastfeed your baby, you've probably stocked up on all of the essentials — pump, storage bags, nipple cream, shields, nursing bras, etc. But one of the most handy tools for breastfeeding is actually right at your literal fingertips. Yep, the benefits of hand expressing breast milk are plentiful, according to lactation consultants.
Even though it's not the fastest or easiest way to express your breast milk, hand expressing can be extremely efficient. When I was nursing my boys, I could never quite get the hang of hand expression, but I did try my best because it was a convenient way to help prevent engorgement when my babies weren't around and I didn't have time to pump. Although it was difficult for me, I probably just didn't have anyone skilled enough to help me streamline the process.
Admittedly, seeing a lactation consultant likely would have helped make my life a thousand times easier when I was learning how to hand express. This valuable skill is worth taking the time to learn from a pro because the benefits are numerous — removing colostrum, preventing engorgement and mastitis, and getting a sleepy baby to latch, just to name a few. Read on to see how hand expressing your breast milk could benefit you and your baby.