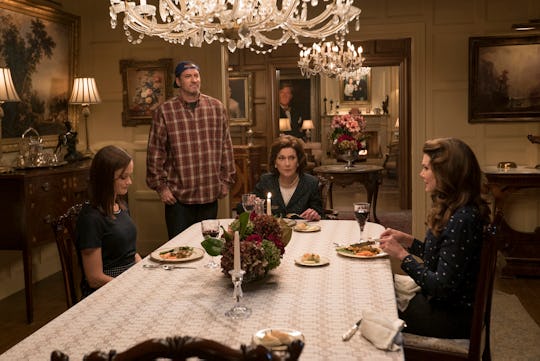 Saeed Adyani/Netflix
6 Best Moments From The 'Gilmore Girls' Revival That Deserve A Rewatch
The Gilmore Girls revival has finally come and gone, and if you're a true fan like me, then you spent all day on Friday eagerly watching all four episodes in one frenzied binge. Perhaps you finished the revival feeling confused, hurt, and a little dirty. Perhaps you're ecstatically happy. Whatever you're feeling, there are six best moments from the Gilmore Girls revival that definitely deserve a rewatch. Others, on the other hand, can maybe be skipped. Richard's funeral, for example, was just so heartbreaking I don't think I can ever watch it again.
The revival worked in many ways because the show creators were able to get so many of the original cast of characters to return to Stars Hollow and truly revive the magic of the show. The revival didn't feel like a reboot or perfunctory fan service. It felt like going back, and in many ways absolutely nothing had changed. Which is, of course, exactly what everyone wanted. It was filled with the same strained-yet-loving relationships, oddball humor, and colorful characters as before, and some of those moments were so poignant they definitely warrant a second viewing, unless you're a crazy person like me and have already gone through the entire revival a second time for good measure. For example...
1. Everything Paris Gellar
Liza Weil deserves all the awards for coming back as the most perfectly conceived version of grown-up Paris Gellar that could possibly exist. She stepped perfectly into the role of multiple-degree holding owner of a fertility and surrogate clinic. Nine years later she is as high-strung, ass-kicking, and occasionally socially tone-deaf as ever. Every one of her scenes is an absolute joy, especially that scene in the bathroom after spotting a not very Chad Michael Murray-looking Tristan.
2. Emily's DAR Scene
Emily Gilmore has long been my personal favorite character on Gilmore Girls. Complicated, subtle, brilliant, manipulative, fierce, and sensitive, Emily is perhaps the most human character the show has ever had. And she is at her stand-up-and-shout best at her final ever DAR meeting, wherein she calls out the other ladies for their hypocrisy and meanness with the stalwart battlecry: "Bullsh*t! Bullsh*t! Bullsh*t!" Emily is a Queen and we must bow to her fighting spirit.
3. Lorelai's Memory Of Her Father
Very few scenes in television have ever made me bawl quite so hard as when Lorelai finally told her mother her favorite childhood memory of her father. In the first episode, at his funeral, instead of sharing a nice story about Richard, she was only able to recall the bad stuff. Obviously, this resulted in a knock-em-down, drag-em-out fight with Emily. So after her hike, she called her mom to tell her how her dad had once found her at the mall cutting class after a humiliation at school, and instead of yelling, he bought her a hot pretzel and took her to the movies. Lorelai cried, I cried, everyone cried.
4. Rory's Goodbye To Logan
Yes, Logan is very cute, and were I Rory, I would definitely miss his grand gestures too. But Rory is too old and too capable to keep accepting this kind of help from him, especially when he's engaged to someone else. After all, did she learn nothing from her dalliance with married Dean? Saying goodbye was Rory at her strongest. And that Across the Universe montage was the perfect way for the two of them to part ways.
5. Jess & Rory's Reunion
While Rory spent most of her time in the revival in a sort of messed up relationship with Logan — who is very charming and sweet but also a child and engaged — she got a visit from another former flame and everyone's favorite, Jess Mariano. It's Jess, by the way, who suggested she write a book about her relationship with her mom. Jess is always the one who steers Rory in the right direction, who reminds her what she's capable of and how to get there. Fingers crossed for a Jess and Rory reconcilation if a Season 2 ever happens.
6. Luke's Speech To Lorelai
We've always known that Luke and Lorelai belong together. And at first, in their cozy, idiosyncratic togetherness it looked like they were better than ever. Of course they reached a stumbling block and start lying to each other, but once Lorelai came back form her hike, Luke poured his heart out in the most touching and swoon-worthy speech in Gilmore Girls history. (He is all in.) We've come too far to end here, he reminded her. Luckily she didn't need reminding and they got engaged and were married a few scenes later. Can I get a hallelujah?
Of course, I could go on and on with other great moments throughout the revival. But these, by far, were some of my top picks that I'm sure I'll go back and revisit one or two (or 10) more times this week.