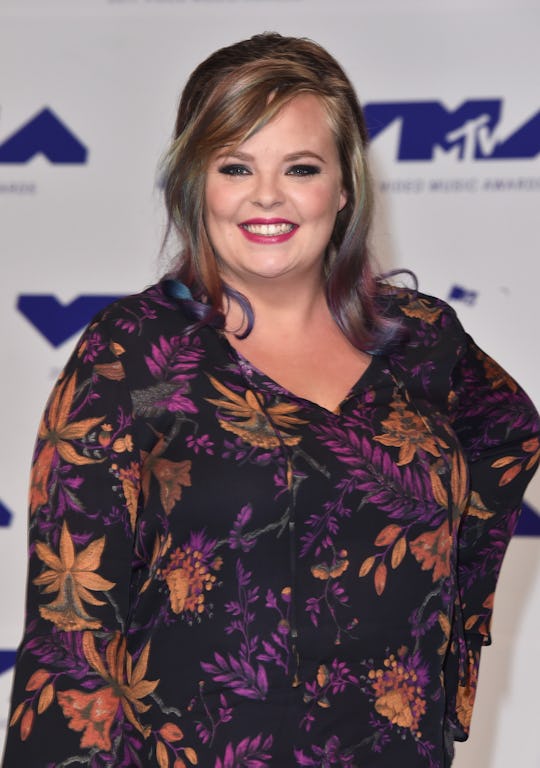 Alberto E. Rodriguez/Getty Images Entertainment/Getty Images
Catelynn Lowell Has Said Some Great Things About Being Pregnant
Last week, Teen Mom OG star Catelynn Lowell announced she was pregnant with her third child. The news was exciting, but not too much of a surprise, considering how much Lowell loves being a mom. As she and husband Tyler Baltierra prepare for baby number three, now seems like the perfect time to go over some of Catelynn Lowell's quotes about pregnancy.
Lowell, 26, starred on 16 and Pregnant back in 2009, when she gave birth to a baby girl, Carly, at 17 years of age. She and Baltierra decided to put Carly up for an open adoption, In Touch Weekly reported. Lowell and Baltierra have met Carly several times since placing her with her adoptive parents, Brandon and Teresa, the outlet added.
The teenage couple continued to grow up together, and on Jan. 1, 2015, a few months after getting engaged, they welcomed another baby together. They named their baby girl NovaLee Reign, Radar Online reported at the time. "OMG guys, my daughter is BEAUTIFUL! Can't wait for you guys to see her!" Baltierra wrote on social media after Lowell gave birtyh, according to the outlet. He also Instagrammed a shot of Lowell holding NovaLee in the hospital. "Momma Bear holding our little angel!" he captioned the shot. "Can't tell you the feeling of witnessing this. Look at my beautiful bride to be!"
So while fans wait for Lowell and Baltierra, who got married in 2015, to announce the arrival of their newest bundle of joy, here are six quotes from Catelynn Lowell about pregnancy.
1. When She Announced Her Current "Rainbow" Pregnancy
"The big news is that we are expecting our rainbow baby. This baby is our rainbow after the storm. I'm super excited," Lowell told Us Weekly on Sept. 13, 2018. "It was a huge shock at first. We were not planning it, especially after the miscarriage and how I went downhill with my mental illness."
2. When She Said She Wanted To Get Pregnant Again After Her Miscarriage
Earlier this year, Lowell and Baltierra appeared on on Teen Mom 2 star Kailyn Lowry's podcast, Coffee Convos. "We definitely want more kids, especially after the miscarriage and stuff," Lowell said on the podcast, People reported. "We're kind of not rushing into things right now, because we were there, and then I had the miscarriage. Then I just went downhill, I want to make sure that I'm healthy and happy," Lowell added.
3. When She Reflected On Her First Pregnancy
"I was too young when I got pregnant with Carly — I was sad and scared," Catelynn told In Touch Weekly in 2014. "We've learned from what our parents did wrong. Tyler and I own our own home, have two cars and actually have money to support a kid."
4. When She Shared Her Pregnancy "Diet"
Earlier this week, Lowell reminded fans that when you're pregnant, it's OK to give into cravings. "I'm an adult and pregnant SO I can eat this in the morning 😂," she captioned a photo of froyo from Pinkberry. I approve, Catelynn.
5. When She Admitted Her Current Pregnancy Was An Accident
After announcing her pregnancy, Lowell also told Us Weekly:
We were going to wait a really long time. We were using protection and everything and still got pregnant. This baby just wanted to be here. It was very unexpected.
6. When She Revealed What Gender She Hopes Her Child Is
"I think we both want a boy for sure, but also we have Nova," Lowell, told Us Weekly in another interview last week. "So it's, like, if we're just meant to have girls, we're meant to have girls." Lowell has yet to announce if she found out her baby's sex, but even if she does experience gender disappointment, I have no doubt that she will still be overjoyed to welcome her baby.
It will be so exciting to continue to follow Lowell's pregnancy — here's hoping adorable family photos are already in the works.