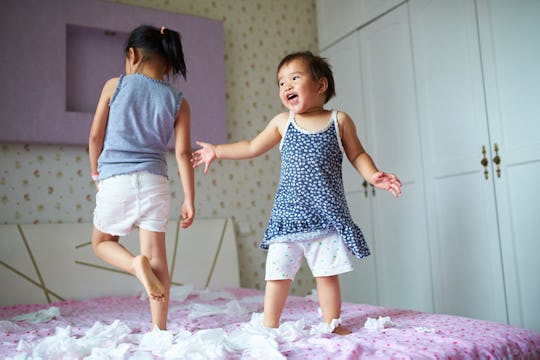 Bo Bo/Stocksy
All Siblings Share These Surprising Similarities & That's Kind Of Spooky
Brothers and sisters are ultimately completely different from one another, despite sharing about 50 percent of their DNA. Even identical twins can be wildly different, and they're literal carbon copies of each other — more or less. But there are some weird similarities all siblings share, no matter how dissimilar they are.
I've always thought my sister and I had so much in common because of our genetic bond, but on the whole, research points to siblings being more different than they are similar. It's intuitive to assume siblings will have very similar experiences throughout their childhoods, as they grow up in the same house with the same parents. But behavioral scientists have actually found that "there is not a single family, but rather as many disparate families as there are children to experience them," as the New York Times reported. Basically, research shows that lots of factors can make the same household feel extremely different for each child in a family, no matter how similar their childhoods may look on paper.
But whether you and your sibling are polar opposites or have been doing everything in sync since you could crawl, there are a few things you'll have in common whether you like it or not. Read on for six weird ways you're just like your sister or brother.