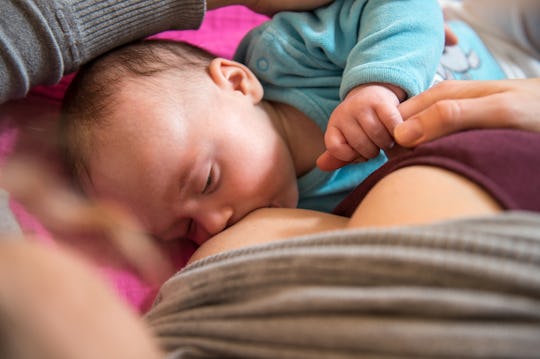 pimentos/Fotolia
6 Must-Know Hacks For Exclusive Breastfeeding
Although breastfeeding is deemed as "natural," it can come with it's fair share of ups and downs. Many first time moms are thrown off guard by the difficulties that come with exclusive breastfeeding. Even for moms who don't have problems with supply, latch, or engorgement, having a few hacks for exclusive breastfeeding up your sleeve can make all the difference.
When you hear the word "hack," you probably think of ways to cut your dinnertime prep in half, sneaky ways to tweak your workout to get the most out of your effort, or tricks for organizing your bathroom. But you might not be aware that there are lots of ways to "hack" your breastfeeding routine to make it as smooth and stress-free as possible too.
Sure, breastfeeding might not be as simple as preparing for a meal or doing a few squats. But, like anything, it can be made easier with advice and tricks from moms who have done it before. If you struggle to remember which side you nursed on last, you want a few quick ways to boost your supply, or you don't know how to get your baby to hold still during a feeding, these breastfeeding hacks might just solve a problem or two and make your time nursing as natural and beautiful as possible.