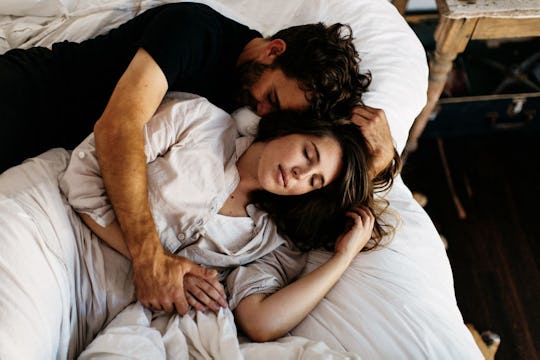 Matt And Tish/Stocksy
6 Lists Every Mom Makes In Her Head While Having Sex During The Holiday Season
December is such a lovely, magical time of year. All the twinkly lights, crackling fireplaces, charming music... it brings out the romantic in all of us. Couples are inspired to reclaim their relationships (all those Hallmark movies are bound to give you ideas), and passions soar higher than Santa's sleigh. But since this is real life, the truth is that even as they tumble in the sheets, moms everywhere are making holiday lists in their heads that have absolutely nothing to do with sex.
It's not that we don't want to enjoy a little mistletoe magic; far from it. But when we have a thousand errands to run, cooking to do, gifts to buy, cards to write, and overexcited kids to supervise, it's hard to stay focused on our partners, even in the midst of the act. As Psychology Today explained, our level of sexual arousal and performance is closely connected to our thought processes. When our brains are churning with anxiety or distracting images, let's just say it doesn't make for mind-blowing sex. One study from the University of Waterloo in Ontario found that women were most likely to be distracted during sex by thoughts about their body image. But during the holidays, there's plenty more to keep our minds occupied (though we certainly do fret that the goodies at the office party went straight to our hips).
These are some of the biggies, and you probably can think of a bunch more. Trust us, we totally sympathize... but try to turn off your brain for just a couple of minutes when you and your partner are together. This time of year is crazy enough without spoiling your limited couple-time, too. And think about the benefits...