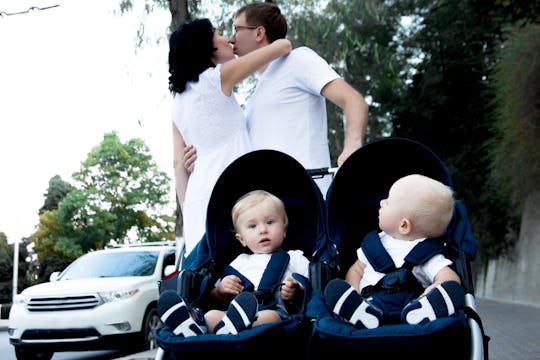 Shutterstock
These 6 Signs Mean Your Toddler Is Paying Attention To Your Happy Marriage
Have you ever said something and had your toddler repeat it out loud, causing you to immediately regret your decision to use that expletive or make that negative comment? Children mimic our words and our actions from a very early age, and the positive aspects of your behavior are also rubbing off on your young kids — including the stellar way you and your partner treat each other, as evidenced by these six signs your toddler sees a happy marriage.
Kids pick up on just about everything they see the adults around them doing. If you and your spouse constantly fill your home with love, support, and encouragement, it is bound to impact your children positively, but that doesn't necessarily mean perfect behavior from your child. When asked what some general signals are that a toddler is witnessing a healthy marriage, Sarah Hornack, Ph.D., a psychologist at Children's National Health System tells Romper, "This is difficult to answer, since it isn't the case that happy marriage equals perfectly well-adjusted child. However, a happy marriage and emotionally fulfilled parents can offer children a greater sense of assurance that their own emotional needs will be met, resulting in less overall distress."
I'm sure those of you who have experienced the highs and lows of the rollercoaster ride that is marriage can attest to your relationship impacting your child's behavior one way or the other. Take a look at these six signs your toddler sees a happy marriage, and see if any align with what you experience in your own home.