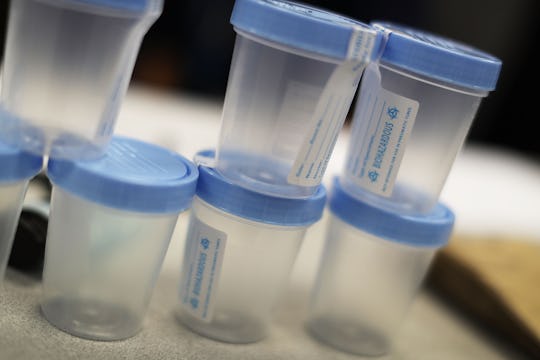 Joe Raedle/Getty Images News/Getty Images
6 More Non Travel-Related Cases Of Zika Reported In Florida, & There Are Probably More
Florida continues to struggle to get ahead of the fast-spreading Zika virus. The virus, which is spread through the infected bite of an Aedes Aegypti variety mosquito, has been identified as a problem in two major areas of the southern state. With the news that there have been six more non travel-related cases of Zika reported in Florida, some experts have expressed concern that there are far more cases of Zika in Florida than there have been reported.
According to a report by The New York Times, there have been serious delays in Florida laboratories, as the labs attempt to keep up with the deluge of pregnant women anxious to take advantage of free Zika tests offered in the state. No one could blame the pregnant women for being nervous; after all, the Zika virus can be passed from mother to fetus and has been linked to microcephaly, a neurological disorder that occurs when a baby's head does not grow to full size. The disorder can create a lifetime of complications, including both physical and mental developmental issues. While the Center for Disease Control and Prevention recommends a blood or urine test to detect a Zika diagnosis, unfortunately there is no treatment available at this point for the virus.
In August, Florida Gov. Rick Scott announced that the state would be offering affordable Zika testing to low-income and uninsured women, many of whom were worried they may have contracted the virus but could not afford the testing.
As a result of the more affordable testing, the Miami-Dade County labs, where the most cases of Zika have been reported, were inundated with hundreds of pregnant women anxious to be tested for the virus. Those women have been waiting weeks for their results from the state, while the same testing done in a private laboratory usually offers results within three to seven days, according to The New York Times.
As of Monday, there were 6,649 people who had been tested for the Zika virus in the state of Florida. So far, 771 people have tested positive, with 86 of those being pregnant women.
While Florida state health officials have not offered a reason for the long wait times for test results, Dr. Lillian Riviera, Florida Health Department administrator for Miami-Dade County, spoke to a panel of Zika experts about the delays. Dr. Riviera explained that the delays are complicated, and that sometimes, "tests are done and have been delivered, and sometimes there are bureaucratic reasons; they are in someone's computer or fax machine."
As reports of the virus have spread beyond the Miami area and are now being reported in Palm Beach, Broward, and Pinellas counties, many locals are worried that state officials are under-reporting cases of Zika by not including tourists in their official counts. Michael Osterholm, director of the Center for Infectious Disease Research and Policy at the University of Minnesota, explained to The Tampa Bay Times how dangerous such under-reporting could be.
"That's just wrong," he said. "To get a true picture of what's going on in Florida, you want to know, among anyone who was in Florida, who acquired it there. ... That's how it should be counted. If they're not, then that sounds to me like they're trying to minimize their number of cases."
State Surgeon General Celeste Phillips maintains the Florida is adhering to reporting standards set by the CDC. Meanwhile, Gov. Rick Scott has traveled to Washington D.C. this week to ask for more funds to aid the state in their Zika fight. Gov. Scott also admonished Congress for their lack of action, according to The Miami Herald. To date, Congress has failed to pass any funding to fight Zika.
"In our state we started having (Zika) cases back in February. I've been asking for Congress to be a partner since then. I've asked for the federal government to do funding. They haven't done it."