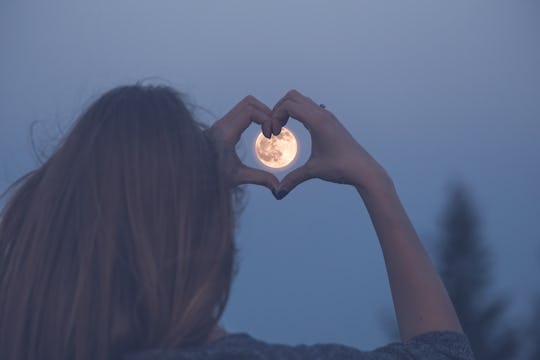 Shutterstock
6 Old Wives' Tales About Friday The 13th's Micromoon, According To Astrologists
Thanks to a friend, I recently became pretty obsessed with astrology. I'm a newbie as of the Summer Solstice of 2019. I don't know why I didn't get into this sooner, because it all just makes perfect sense. Knowing my sun sign being in Libra, my moon sign being in Aries, and my rising sign being in Capricorn just totally gives me perspective on my identity, the way I handle emotions, and my "outward persona." And I firmly believe the moon phases affect us as well. So I'm curious about any old wives' tales about the micromoon that's coming up. Well for some, I guess they're "old wives' tales," but for others, these are things we can potentially expect to happen on Friday the 13th. Oh yeah, because not only is it a micromoon — which also means it's a full moon — but it's going to occur on Friday the 13th for some places. Guys, this is a pretty intense lunar event. Superstitions will be colliding.
So what exactly is a micromoon, and how does it differ from a regular full moon and a super moon? Well a super moon is when the full moon is closest to the earth, so it appears larger and brighter. A micromoon, though still a full moon, is when it is furthest away from the earth, according to universallifetools.com. The Farmers' Almanac also stated that while June 13, 2014, was when the Eastern Hemisphere experienced a full moon before midnight on Friday the 13th, this time, the Western Hemisphere will be experiencing this phenomenon. The Farmers' Almanac also noted we haven't had a Friday the 13th full moon nationwide since Oct. 13, 2000, and it won't happen again until Aug. 13, 2049.
As far as whether or not the fact that it's Friday the 13th will affect any outcomes or experiences from the micromoon, astrologist Helene Cierzo says though it is certainly spooky, it doesn't make much of a difference. However, she does tell Romper to look out for a few "old wives' tales" or things to potentially happen thanks to this micromoon that is also a full moon.
Additionally, Cierzo says there's a chance the "lunacy" effects of the typical full moon may lessen, since it's farther away than normal. "[This micromoon] is when a new moon or full moon is at the lunar apogee, which is the farthest place from the earth in the moon's orbit. So this moon is the smallest moon of 2019," she tells Romper.