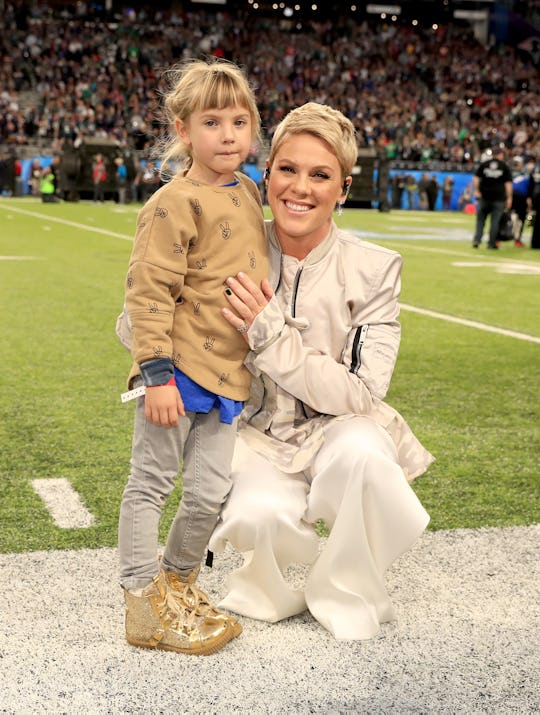 Christopher Polk/Getty Images Entertainment/Getty Images
6 Times Pink Totally Nailed What It's Like To Be A Working Mom
Pink is out there in the world right now on tour with her whole family. I believe they're in New York, judging from the Instagram posts I've been voraciously gobbling up. She's apparently performing a solid show every single time she hits the stage, and looks to be having a great time with her two kids and husband along the way. Because she knows how to get things done, and done well. These Pink quotes about being a working mom should be considered required reading for anyone out there who still thinks women can't manage to do both well. Without a trace of guilt or negative feelings, because in the end you might be teaching your kids more than you know.
Pink is a big advocate of including her kids in her work life. Whether she's doing pre-show warm ups with 1-year-old son Jameson or practicing a dance routine for the Super Bowl with 6-year-old daughter Willow on her back, the "What About Us" powerhouse happily blurs the lines between work and family. And even when having her family along causes some complications, like that time when she had to cancel a performance in Detroit because her entire family got sick, I bet she thinks it's totally worth it.
Doing Double Duty
The singer clearly loves her work and her family, and is happy enough to blend the two as often as she can. Like breastfeeding son Jameson while she sat in the makeup chair. She captioned the Instagram photo, "Jameson can multitask too."
Sleeping On The Job
Yes, to this picture of Pink napping while her daughter plays with the iPad. And yes to the caption that went along with it:
Babe, Mama's just gonna take a quick nap here while this iPad babysits you.
Multitasking Mama
Here is the truth about parenting, folks; things need to get done. Like, all the time. And when you're a busy working mom, sometimes you have to do a little multitasking, like when Pink was wearing her son Jameson while cooking some vegetables as Willow looked on. Of course, there were plenty of people who came after Pink for apparently putting her son in danger. But as she pointed out in the comment section, according to Women's Health:
I'm relieved that most of you see the ridiculousness of the comment situation. Lord help us all.
Leading By (Beautiful) Example
When her daughter Willow wanted to run her own lemonade stand, Pink took to Instagram to explain how Willow wanted to sell lemonade for a sweet reason:
She wants to donate the $ to a "high kill shelter". I didn't have the heart to tell her that that wouldn't be a good idea lol. So we're donating to a "no kill shelter". She made the lemonade with hand squeezed fresh lemons (39 of them) and homemade chocolate chip marshmallow surprise cookies.
Rather than simply donating money herself, she taught her daughter a little something about taking the lead, making a difference, and the value of hard work.
All You Need Is Love
As a world famous singer/songwriter and bona fide badass, Pink obviously gets asked for advice all the time. And when a mom wrote to her during a Twitter Q&A, "What advice would you give to Moms who are trying their best daily but sometimes everything can get on top of them?" her response was perfect:
You're doing the best you can, which is amazing, and all children really need is love.
Backing Up All The Moms
Instead of supporting a culture of bashing other moms who make different choices for their own kids, Pink is all about having other women's backs, especially when it comes to parenting. She tweeted about an experience she had in December, according to Working Mother, when a woman approached her at the grocery store to thank her for not being "afraid to f**k up in public. We cried together. It's so hard. Y'all. I wish us mamas could give ourselves and each other a break."
I mean, can you honestly say any better than that? Working mom, stay-at-home mom, adoptive mom, birth mom. Pink says we should give each other a break. So let's just go ahead and agree with her.
Check out Romper's new video series, Bearing The Motherload, where disagreeing parents from different sides of an issue sit down with a mediator and talk about how to support (and not judge) each other's parenting perspectives. New episodes air Mondays on Facebook.