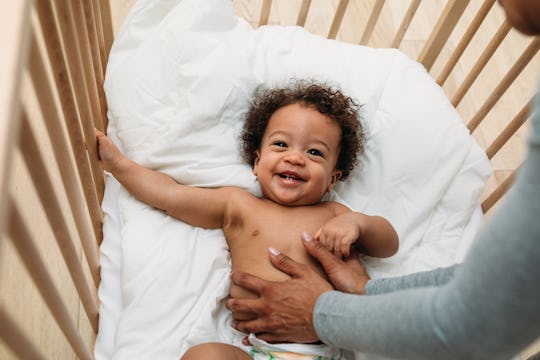 Shutterstock
Positive Parenting Techniques For Infants Are All About You, Says An Expert
When Charles Dickens wrote "It was the best of times, it was the worst of times," I'm pretty sure he was talking about having an infant. In no other stage of life will you ever fluctuate between complete joy to utter despair so quickly, sometimes feeling wonder and woe at the same time. Finding the right positive parenting techniques for your infant can be challenging: There's no shortage of advice on what you "should" do, but since no two babies (or parents) are the same, much of it can leave you more frustrated than your screaming infant. But don't despair just yet: Experts are now putting an entirely new spin on what it means to practice positive parenting with infants, and these strategies will save you so much stress.
The term "positive parenting" refers to a practice that, according to an article on The Bump's website, began in the 1960s when parents started thinking maybe discipline in the form of punishments or rewards wasn't the best way to raise children. Instead, by really listening to children and getting to the root of certain behaviors, they believed the bond between parent and child would be stronger, and children would grow up into more emotionally intelligent adults. Less time-outs, more time treating your child like an actual human being with their own feelings, thoughts, and individual preferences.
But what does that mean when your child is still an infant and can't yet talk to you? How are you supposed to positively parent someone you are positively sure doesn't understand anything you're asking? According to Joshua Castillo (parenting coach, early childhood consultant, and owner of Ask the Child Whisperer), positive parenting when it comes to an infant has less to do with your baby, and everything to do with you, the parent. Her advice is certain to give you new insight into that age old parenting question: What the hell am I supposed to do with this baby?