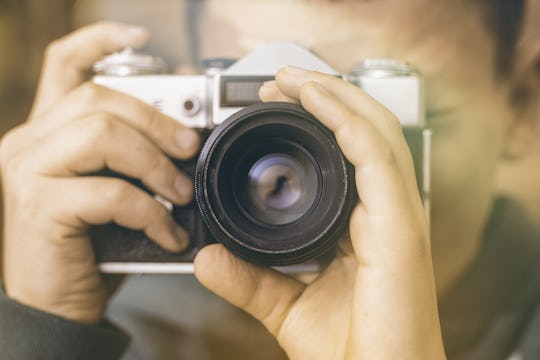 Victority/Fotolia
6 Prayers I'm Offering Up To the Photo Gods On My Kid's School Picture Day
School Picture Day is a rite of passage that, despite the nightmares most of us harbor from our own childhoods, we insist our children endure. The forced smiles, the clothes they would never ordinarily wear, and the spotlight centered on them? It's a lot to foist upon a little person. But we do, and we demand that the result of these labors turn out perfectly. So for all that effort, and knowing what could go wrong, I've got a few prayers I'm offering up to the Photo Gods on my kid's school picture day.
I've been volunteering at Picture Day at my son's school for the past two years, and let me tell you: I've seen things. It is a wonder how between drop off at 8:15 a.m. and the first photos at 8:35 a.m., that some children manage to create complete rat's nests with their hair. I think some kids must make beelines to the nearest desk fan and just let 'er whirl until the whole mess gets tangled in there. The tiny combs they hand us volunteers break in our trembling hands when we simply look at the challenge before us. I've seen older kids, that I know were not sent to school in sweatpants and a shirt with holes, change out of their nice clothes and into their ratty ones because that's the "cool" thing to do. I've seen kids bullied by their classmates while they waited in line, to the point that they froze in front of the photographer (wouldn't you?).
The kindergarteners are cute, and mostly willing to grin and follow the photographer's directions. But as you creep towards the older grades things get awkward. The photo studio my son's school hires is a fancy production, complete with a fashion shoot-type set-up with multiple reflecting umbrellas, backdrops, and flattering lights. The photographers are instructed to ask the kids to do a number of poses, including a dreadful "jump in the air" pose, which I guess would be cute for a 5-year-old, but not so much for a girl developing breasts whose parent has not yet purchased any kind of bra for her yet. Oh, the horror!
As for my kid, we have our own first-grade-sized challenges to deal with. Here are a few, and why I'm asking the Photo Gods to help me out: