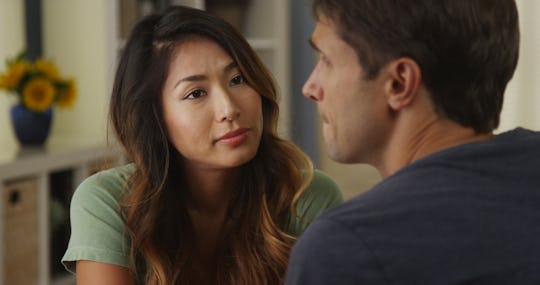 Rocketclips, Inc./Shutterstock
6 Red Flags About Your Partner That Only Your Parents Will Notice
When you become a parent, you magically develop a sixth sense for knowing when your child is up to something (like raiding the cookie jar) or getting into danger (like skateboarding down the stairs). That psychic ability doesn't go away once a child grows up; if anything, it becomes keener. And when your son or daughter chooses a spouse or partner who might not be the best fit, you as a parent have a way of spotting relationship red flags that might be otherwise overlooked.
Let's be clear: We're not talking here about the hyper-critical moms who find fault with everyone you bring home, even if they're so good and thoughtful that they'd put a saint to shame. Or the overprotective dads who believe no one is good enough for their little girl and mutter threats like "You'd better treat her like royalty" right up to and including the wedding day. No, this is about normal, concerned parents who watch the way their children interact with their SO's and get an uneasy feeling in the pit of their stomachs.
When we're in the throes of love, it can be hard to realize the signs that a relationship isn't as healthy as it should be. But just as our parents learned to tell when we were sick just by a touch on the forehead or a look in the eyes, they can also be pretty good predictors of the health of a partnership or marriage. These are just a few of the trouble signs a mom and dad can notice about a partner. If your folks mention any of these topics to you, it may be time to take a difficult but necessary look at your relationship.