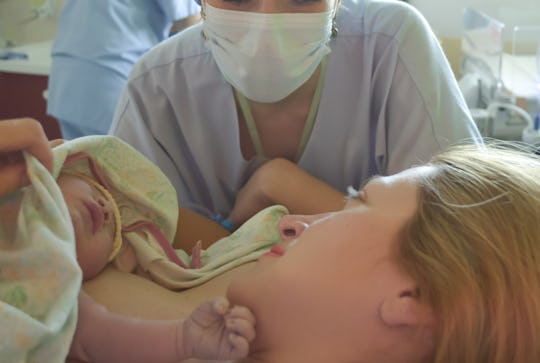 kipgodi/Shutterstock
6 Signs You Have A High Pain Tolerance & Labor Won't Be *Too* Bad
Before many people are even pregnant, the pain of labor and childbirth looms large in their imaginations, and it's not surprising. We talk about it, albeit obliquely and inaccurately, kind of a lot, from TV to our moms reminding us exactly how long they suffered to bring us into the world. Some of us worry we won't be able to "handle it." But here are some signs you have a high pain tolerance, so labor will be... well, not a cakewalk, but doable.
It's not that labor and delivery can't be dramatic, because it absolutely can be, but the way we talk about childbirth is far more dramatic than it usually is, in one way or another. Like, countless sitcoms have the hysterical woman writing in agony, making wisecracks about wanting to kill her partner. And countless dramas depict labors that are super high-risk, from beginning to end, for no actually articulated reason other than a baby is coming out of a person's body and that's scary and dangerous. The one constant in these depictions (neither typical, by the way), funny or dramatic, is intense physical pain on the part of the laboring person.
But pain is so subjective, particularly since pain has physical and psychological components. Different factors will affect the intensity of pain, too. For example, if your water breaks before labor, your contractions are likely going to be more painful than they would be otherwise... but that also brings us back to the "subjective" component. Different things are going to affect whether or not we perceive something as being super painful and, moreover, how we react to those stimuli. That said, I don't know too many people who have been through labor who've call it "pleasant" or liken it to a tickle fight.
And let's be crystal clear on a particular point: you can have a high tolerance for pain and still opt for medical pain management. I actually have a really high tolerance for pain, and I got an epidural. Twice. I'm extremely positive I could have managed labor without it, but I really and truly didn't want to and didn't see much point to continue tolerating all the pain I was experiencing. To date, I consider getting an epidural among my best parenting and personal medical decisions. Other people I know wouldn't trade their unmedicated labor and delivery experiences for the world and, to be honest, some of them claim high pain tolerance while others don't. Again #subjectiveAF.
No one can really know how they're going to respond to the pain of labor before you, you know, go through it, but here are some indicators that you might be more tolerant: