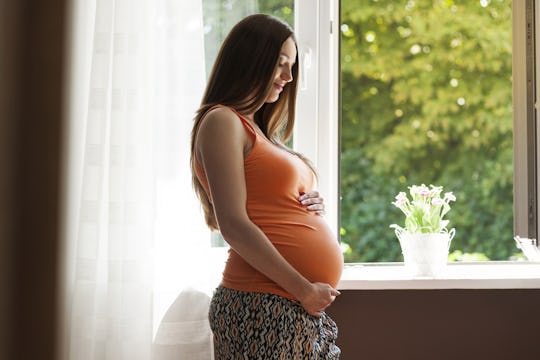 gpointstudio/Shutterstock
6 Surprising Things Fundal Height Can Tell You About Your Pregnancy
Pregnant women learn a lot about their bodies in those nine months than most men learn about theirs in their entire lives. Between conception and birth, all those exams and tests in the OB's office make us acquainted with such odd pregnancy body phenomena as mucus plugs and pelvic separation. Then there's the issue of fundal height and what it means for the pregnancy, a topic no one ever thinks about unless they're either expecting or cramming for exams in med school.
Mysterious as it sounds, it's actually a pretty simple concept: The uterus gradually expands like a balloon as the pregnancy progresses. The farther along in your pregnancy, the larger your uterus should be, the better to give the baby room to grow and develop. By the third trimester, the uterus reaches its full size, which is roughly the size of a watermelon (oof!).
In the second trimester, your doctor may begin measuring the distance between your pubic bone and the top of your uterus (also known as the fundus). The size of the fundal height in centimeters should closely match the number of weeks of pregnancy, per Mayo Clinic. In other words, a woman in her 30th week should have a fundal height somewhere around 29 to 31 centimeters.
There are a host of things that your uterus has to say about the health of you and your baby during this time. Of course, you should always discuss any concerns with your OB or other health professional, but knowing what the fundal height measurement means can help you determine what steps to take if the measurement shows signs of abnormality. Read on to learn what this important maternal test means. For instance, it can tell you...