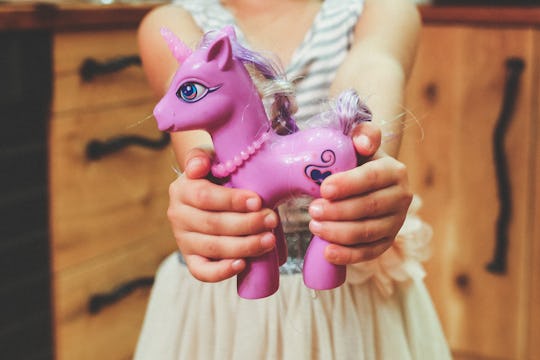 Pexels
6 Things All Feminist Moms Struggle With At Some Point While Raising Their Kids
I had a fairly traditionally girly upbringing, taking ballet lessons, riding horses and playing with my huge collection of Barbies and My Little Ponies. I even had my parents save some of those toys for my own kids after I grew out of them. Not exactly things feminist moms do, right? Well, clearly whether or not you hang onto (even vaguely problematic, gendered) toys from your childhood doesn't have a hell of a lot to do with whether or not you're a feminist, my attachment to the "girly" things from when I was a kid definitely preceded my identity as a feminist. But eventually I did discover feminism, and spent the first part of my adult life examining my body image issues, along with the influence that the media had on my perception of myself and others.
Then I had my daughter.
I was prepared to get all sorts of girly things for her to dress up in, but I found myself grossed out by the lack of choice in colors in the baby and toddler girl sections of clothing stores. It drove me crazy that a gray snowsuit made people assume she was a boy, and I found myself searching out stores that offered more variety (and feeling really frustrated by my lack of ability to do anything about the gender-based assumptions people would make about my baby based on totally arbitrary things like what color she was wearing).
When she began to get interested in dolls, I avoided all those Barbies I had stockpiled years ago, and instead went with a Lottie doll. I bought her a tool set (which she loves) and when we got a hand-me-down train set, I made sure we pulled it out often to play with.
There are still things, despite a less girly upbringing, that I have trouble with, as I raise my daughter. And there will be things that I am challenged by, as my son gets older too.