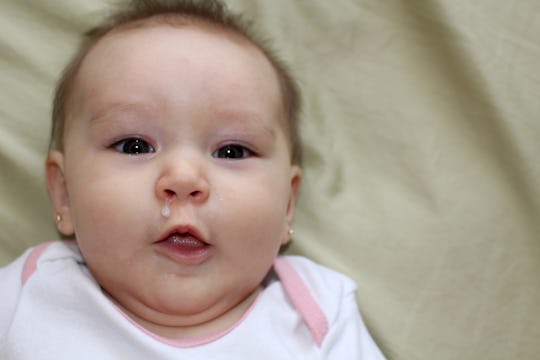 hdominguez474/Fotolia
6 Things You Should *Never* Do To Clear Your Baby's Stuffy Nose
Stuffy noses are no fun — for you, or your baby, as I'm sure you've learned during this horrible cold and flu season. And obviously fixing the problem isn't as easy as just sticking a tissue up there and telling them to blow — if only, right? There are certain mechanics and "tricks" involved to make sure your baby is comfortable again and not dealing with a stuffy nose. And there are definitely the right ways to go about fixing the issue, and things you should never do to clear your baby's stuffy nose according to pediatricians.
Dr. S. Daniel Ganjian, a pediatrician at Providence Saint John's Health Center in Santa Monica, California, tells Romper that doctor-approved methods of clearing your baby's stuffy nose includes using nasal saline, a bulb to suction it out, or even a vaporizer. Pediatrician Jarret Patton adds, "Even though they may not like the bulb syringe, it is still safe."
And as far as the nasal aspiration products like a NoseFrida, I'd say parents may not like that very much either — at least this one. There is not enough safety mechanisms and shields in the world to make me feel less queasy about sucking snot out of my baby's nose with my mouth. What if it accidentally comes through? I'm gagging just thinking about it. Give me all the poopy diapers and vomit to clean up, but having snot in my mouth is where I draw the line. But I know I'll do what I have to do if my baby needs me to suck the snot out of his nose. (But only if the hand-held nasal aspirator bulb doesn't work out.)
Some safe and approved products that have been recommended on a few of the pregnancy message boards I follow include the Little Remedies for Noses brand of saline drops, which can be used for infants, and Boogie Mist, but for babies 1 year old and up. And the NeilMed PediaMist for Small Noses was brought up a couple of times. This one is good for newborns and up, too. And of course, the NoseFrida and Munchkin ClearNose brand nasal aspirators.
As for when you should see a pediatrician, Patton says to definitely go in if your baby seems to have difficulty breathing "and seems to suck in at the ribs while breathing. This is a sign of respiratory distress and should be evaluated by a physician. Additionally, if wheezing noises are heard during respiration, have them evaluated to ensure there is not something more than just nasal congestion."
Otherwise, "it is OK to manage your babies' runny nose if your child is breathing well, eating well, has no fevers, and has a good amount of energy, and the runny nose has been for less than one week," Ganjian says. However, manage your baby's runny nose with the suggestions above, and not the following "no-nos" according to pediatricians.