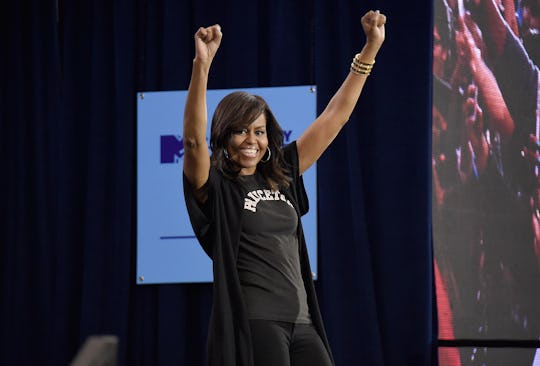 Nicholas Hunt/Getty Images Entertainment/Getty Images
6 Times Michelle Obama Proved She's The First Lady You Want to Be BFFs With
Over the past eight years, Michelle Obama has proven herself to be a popular First Lady, whether she was pushing schools to feed kids better, encouraging girls around the world to get an education, and yes, dancing like she just don't care. In honor of FLOTUS' last few months in the White House, here are 6 times Michelle Obama proved she's the First Lady you'd really love to have as your BFF.
Mrs. O isn't just classy, brilliant, and Ivy-League educated, she's someone you could imagine it would be a blast to hang out with. That's despite just being named by Forbes Magazine as the 13th most powerful woman in the world. She can walk the fine-line between being a serious person and cracking the occasional joke to break the tension. She's poised and classy, but not so that it makes her seem less like the rest of us. So let's set aside her Secret Service entourage, her very powerful husband, and that Harvard Law degree, and take a look at the times you wished you could hang with FLOTUS.
1. Carpool Karaoke
While the collective world's heads were exploding over portions of her 2008 speech being copied, pasted, and delivered by Melania Trump, the First Lady took a spin around the White House grounds with all-around funny dude James Corden for an episode of "Carpool Karaoke," where she belted out Stevie Wonder, Beyoncé, and Missy Elliot. And it was flawless.
2. Her 2016 City College Of New York Commencement Address
During the 2016 graduation season, FLOTUS could have spoken to the class at any number of fancy schools, but instead she brought the house down at the graduation for the City College of New York, her last as First Lady. She chose CCNY, she said during her remarks, because of its diversity. She talked about her own experience waking up in a White House built by slaves, where her beautiful black daughters wave goodbye to their father, the first black president of the United States. Her message was hopeful, uplifting, and the kind of stuff that makes you want to fight harder for equality in the U.S.
3. Mom Dancing
The First Lady got with Jimmy Fallon in 2013 to do the "Sprinkler" among other dance moves, to encourage moms to get moving with their kids in the now famous "Evolution of Mom Dancing" skit when she absolutely killed the "Dougie."
4. Mom Dancing, Part 2
And she was back, teamed up with a cardigan-wearing Jimmy Fallon in 2015 for another go-around of "mom dancing," and don't worry, she still had it.
5. Hamilton Fangirl-ing
Even the First Lady was super excited to have the stars of the ultimate Broadway hit Hamilton at the White House along with an audience full of high school kids. She talked about opening up the White House to Americans, including a poetry slam it hosted seven years ago staring a new poet, Lin-Manuel Miranda, when he did a piece about Alexander Hamilton — and brought the White House down. She called Hamilton the best piece of art in any form she had ever seen.
6. Double Dutch Queen
That time in 2012 when Michelle Obama showed Kelly Ripa how double dutch is done with a team of kids.
Love her and miss her already.