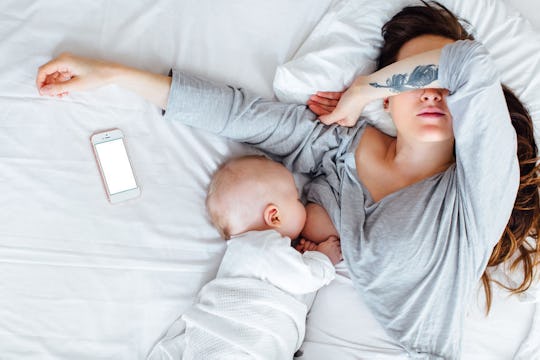 Maresa Smith/Stocksy
Yes, You Can Wean Your Baby When You're Breastfeeding To Sleep — Here's How
Perhaps the only issue that draws more heated discussion among parenting "experts" than babies and sleep is breastfeeding. Try to talk about how to wean from breastfeeding when you're using it as a tool to help get your baby to sleep and a quick Google search will prove what a tricky topic this can be.
First off, even though my children are 16 and 12 now, I can very distinctly remember being told as a young mom that nursing my babies to sleep was a no-no, and something I'd definitely regret later. I had a very difficult pregnancy with my older son, and he was also extremely difficult to get to sleep... except when I nursed him until he relented. I couldn't imagine how anything that worked so well and felt so natural could be so wrong, so I did it anyway, which, as it turns out, is A-OK, according to Kelly Bonyata, BS, IBCLC.
"Many mothers feel guilty for breastfeeding their baby for comfort or as they drift off to sleep. Breastfeeding your child to sleep and for comfort is not a bad thing to do — in fact, it's normal, healthy, and developmentally appropriate," Bonyata tells Romper. "Many children, if given the choice, prefer to nurse to sleep through the second year and beyond. I've never seen a convincing reason why mothers shouldn't use this wonderful tool that we've been given."
"Breastfeeding is amazing and a wonderful tool to get baby to sleep," agrees Briana Violand, IBCLC, CSC, of Northcoast Lactation and Sleep Services. "Only when mom is ready to wean is it time," she says.
There are some experts, even in this day and age, who still beg to differ. Of course, there's the self-soothing crowd, who are insistent that babies need to learn how to get themselves to sleep. Babies wake often during the night, after all. "When a baby knows how to self-soothe and falls asleep independently, she wakes in the night, checks her surroundings, and finding nothing to be alarmed about, she goes back to sleep without needing our help," says Alice Callahan, Ph.D., the author of The Science of Mom. "The research on sleep training shows that when babies are given a chance to go to sleep on their own, even when that comes with some crying, they learn to self-soothe remarkably quickly."
Research from the Center on the Developing Child at Harvard disagrees, however. It's developmentally not possible for infants to self-settle because their brains are just not developed enough to enable them to do so. Did I mention development? It's a developmental thing!
With that myth cleared up — seriously, it has been dogging me for more than a decade now — what happens when you've put this tool to good use like I did, but the time to wean has come? I loved everything about breastfeeding: I loved the sense of closeness with my baby, the feeling of bonding, the feeling of empowerment that I got when I thought about not only having produced this tiny human but serving pretty much as his sole source of nourishment for more than a year. I always had food handy for the baby and never had to worry about packing it or whether it was at the right temperature.
I chose to wean each of my boys when they were around 2 years old; that was the right time for us, and every mom is different. I got lucky, and for me, making the transition from nursing the baby to sleep to getting the baby to sleep on his own wasn't that hard. It can be done: here are some tips from the certified experts, and a few thrown in from a certifiable expert — me.