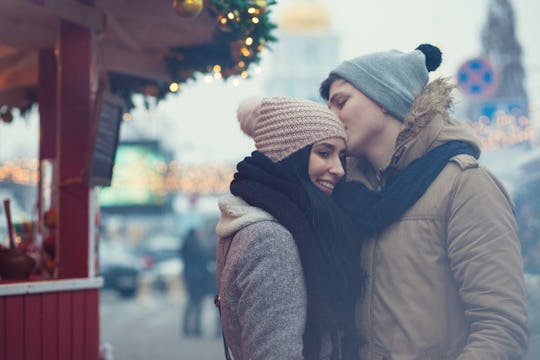 Rasstock/Shutterstock
6 Ways The Holiday Season Affects Your Marriage, For Better Or Worse
If you're an unabashed binge-watcher of all the Lifetime and Hallmark Channel holiday movies, you know quite well that this is the season when a new romance can flourish under the snow-covered pines or in the midst of a sparkling light show. But for those of us already wed, we may not realize how much the holidays can affect a marriage... both for better and for worse.
The most wonderful time of the year also comes with stresses and expectations for couples: how much to spend, which traditions to keep, whose family to visit, how to be effective parents when your kids are hyped-up on candy canes and anticipation. "There are also unspoken expectations you may have of each other that can cause disappointment and rifts," psychologist Nikki Martinez, Psy.D, told HuffPost.
Social scientists and psychologists have long studied the issues surrounding marriage and the winter holidays, and their findings confirm what you may already suspect: The December whirl can either bring you closer together or bring to light the relationship strains that lie beneath the tinsel-covered surface. Knowing what research has to say about marriage at this time of year can help make you aware of the problems that can crop up and work with your partner to resolve them; it can also help to know that when you're both on the same page, you really can experience something close to a Hallmark-style holiday.