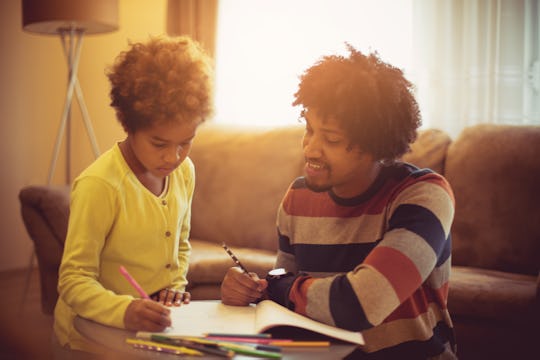 Shutterstock
How To Ask Your Partner For Parenting Help Without Starting A Fight
If you're raising a child with someone, you know that you both have to put in a lot of work to get the job done and help each other out. Still, there may be times when there's an imbalance in responsibilities, so it's helpful to know how to ask your partner to parent more actively, and how to do it without starting a fight.
In parenthood, feelings of inequity can quickly grow into something much larger. Clinical psychologist Venus Mahmoodi, Ph.D., tells Romper that when a parent feels like things "are unfair and overwhelming," it can lead to "increased conflict, increased resentment, and increased disappointment." This will, in turn, create a disconnect between the two of you. This disconnect could result in a situation where "you don't show up for each other," wellness expert Sophie Jaffe tells Romper, and you feel that "you're not on the same team," which impacts not only your partnership, but your child(ren) as well.
Getting to the root of the problem could be as simple as getting a good, full night of sleep. In her practice, pediatrician Dyan Hes, M.D., tells Romper that she most often sees parents "bickering" as a result of sleep deprivation and exhaustion, and it's not exactly easy to see the weight your partner is pulling when you're going through five cups of coffee to function at a base level. However, not all problems can be solved with a little rest and relaxation; sometimes it's a bit more complicated.
In order to rectify an equity problem, there needs to be an open line of communication between you and your partner where you truly hear each other. Experts say the following tips will help you say what you need to without sparking an argument.