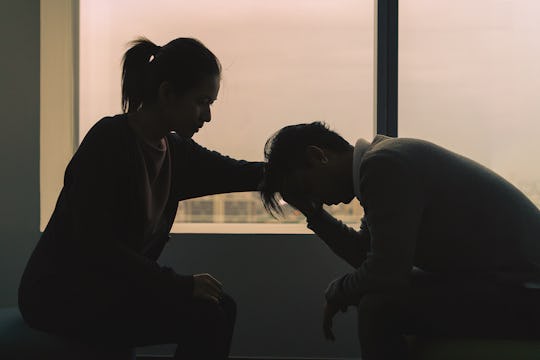 Shutterstock
These Are The 5 Most Common Conflicts Couples Avoid, But Shouldn't
Few people enjoy conflict (unless they're Larry David or Miranda Priestley), and because most don't want to make waves or upset their partner, some couples just won't address issues in their relationship. With this in mind, I asked two relationship experts to share the most most common conflicts couples ignore, but shouldn't.
While there are five specific topics that show up again and again, some couples avoid any disagreements. This sounds peaceful in theory, but can actually be damaging to a relationship.
"Perhaps the biggest conflict avoided of all is conflict itself," Steve Kane, author of F*** It. Get A Divorce: The Guide For Optimists, tells Romper. "Many relationships falter or even fail because one or both partners simply recoil at the idea of resolving conflicts. It almost doesn't matter what the specifics of the conflict are ⁠— we can't resolve whether to turn the air conditioning on or off if we shrink at the idea that we may have to openly air a difference and engage in proactive conflict resolution."
It can feel easier to let issues slide without addressing them in a proactive way but this avoidance can grow, "to the point where your relationship ends up feeling like an emotional minefield," relationship coach Chuck Rockey tells Romper. "Regularly discussing issues can bring you and your partner closer and make being together feel like a safer, more enjoyable place to be."
Read on for five common conflicts couples tend to avoid, and tips for talking about these issues constructively to ultimately strengthen your relationship.