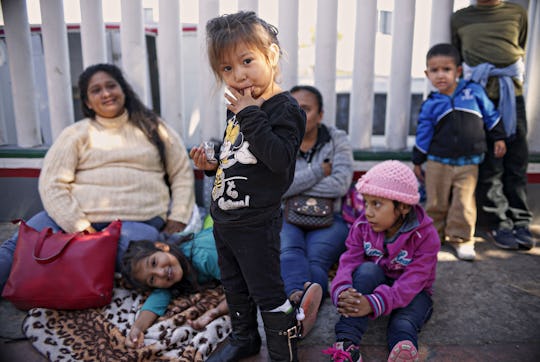 Sandy Huffaker/Getty Images News/Getty Images
6 Ways To Help Refugees & Asylum Seekers On World Refugee Day & Every Other Day Of The Year
All over the world, people flee their homes because of war, gang violence, lack of resources, and other types of persecution looking for a better life. Right now, with the surge of asylum seekers from regions such as the Middle East, North Africa, or Central America, governments are struggling to resettle people in their countries for a number of reasons, some of which include bigotry and fear. Watching legislators (and the people who vote for them) turn people away or separate kids from their parents can be gut-wrenching. Luckily, though, there are a lot of ways to help refugees and asylum seekers in honor of World Refugee Day and literally every single other day of the year through a number of organizations that have been active for decades. They know what they're doing, and by aligning yourself with them, you can really make a difference.
People have to step up, despite how daunting the task feels. According to the United Nations, there were an "unprecedented 65.6 million people" that had been forced from their homes because of persecution, conflict, and climate change at the end of 2016. About 22.5 million are refugees, according to the U.N., and more than half of that number are kids under the age of 18 years old.
The refugee crisis is very real, and it's not just about resettling people. Displacement can have lasting effects on children, according to the Brookings Institute. So even if we could snap our fingers and give everyone a safe home, food, health care, and education right this very minute, the developmental effects on kids and their families will linger going forward. There's a lot of work to do, but there are places to start. Here are just a few.
Inform Yourself
Because the rhetoric around refugee resettlement and asylum seekers is so politicized, it's hard to know what's fake news or not. Find out what your state laws are when it comes to Immigrations and Custom Enforcement policies and refugee settlement. Does your community resettle refugees at all? Are asylum seekers really "illegal" and more prone to crime? (Spoiler alter: They're not.)
Read up on federal policy regarding immigration laws and stats, especially because there are a lot of "alternative facts" circulating in this politically charged environment. A little Google search of reputable sources will prepare you going forward, whether it's to inform your own volunteer work or educate others.
Volunteer
Communities all over the Unites States have refugee resettlement agencies and offices, such as the International Rescue Committee (IRC), that help refugees and asylum seekers get settled. Sometimes even churches and religious organizations are also involved in welcoming refugee families to the United States or elsewhere, according to Refugees.org.
You might help someone with their resume, help them figure out their bills and to register for school, set up an apartment for an incoming family, teach English and help kids with homework, or just be a friendly face they can turn to when things get rough. This is the most rewarding way to connect with people from all over the world and see that we all really want the best for ourselves and our families.
Donate
Of course, volunteering and and getting into a Wikipedia-hole about refugee rights takes a lot of time. When you're working, have kids, and your own situation to figure out, it can be hard to find the time. Money always talks. You can donate to larger organizations, such as the IRC or Save the Children that provide services to to refugees all the time. Or go super local. Find those organizations in your community that help resettle people and donate to them or organizations like Together Rising or The Florence Project to help asylum seekers on the Mexican border right this very minute.
Fundraise
Money isn't always easy to come by, so if you can't make a donation yourself, you can always fundraise in your community. There are likely other people you know that want to do something who would love to throw something together with you. Put together a bake sale at your kids' school or a neighborhood yard sale to raise money for refugees and asylum seekers. If you have a wedding or a birthday party, you can also ask people to donate instead of giving gifts. If you run your own business or are an entrepreneur in some way, tell your customers that you're donating part of the profits to encourage them to buy more stuff.
A lot of organizations who help refugees here or abroad will have a link to specific toolkits full of ideas on their websites so you don't have to start from scratch, too.
Invest In A Refugee Or Asylum Seeker
If your community resettles people, you can always volunteer to put them up in your own home for a temporary period. The IRC and AirBnB have partnered up to offer homes up to people in need of temporary housing, so it's safe and simple to do. If you're an employer, hire a refugee. Or, just find out who those families are and invite them to the next block party this summer. In 2016, the United States resettled almost 85,000 refugees, according to the Pew Research Center, so people are here. You just have to reach out and find them.
Speak Up & Often
Call your representatives to tell them that you care about how your state and country handles refugees and asylum seekers. Attend a "Families Belong Together" march this summer to protest the separation of families on America's southern border. When you hear someone speak falsely about refugees and asylum seekers, correct them. Share reliable news sources on your Facebook page. Standing up for refugees and asylum seekers is standing up for human rights.