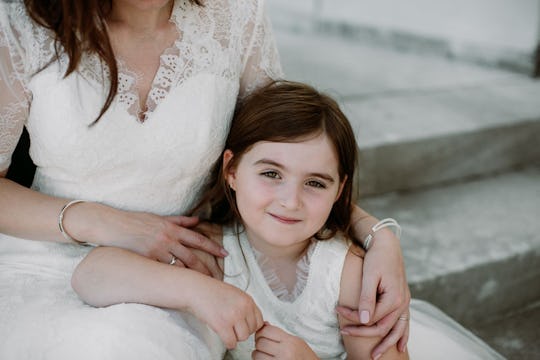 Jovana Vukotic/Shutterstock
6 Ways To Incorporate Your Kid Into Your Wedding Gown, Because It's Their Day, Too
Say what you will about the whole Brad Pitt-Angelina Jolie marriage and divorce mess, but the A-list celeb couple did at least one thing right. I'm talking about Angie's one-of-a-kind Versace dress, which was accented with reproductions of drawings made by their six children. Incorporating children in a wedding gown is not only a unique idea, but a beautiful way of acknowledging the whole family for a second marriage, a vow renewal, or, like Brangelina, parents who are legalizing an established union.
With more than half of millennials opting to have children before marrying, and a growing number of older couples marrying for the second time, it's not unusual anymore to see weddings featuring the couple's children in honored roles. Do a quick search on Etsy, and you'll find any number of designers who make signs for little ones to hold during the ceremony (with sayings such as "Don't worry, ladies, I'm still single" or "Daddy, are you ready? Here comes Mommy!"). Including the kids as part of the wedding party is a no-brainer, and putting them in the vows is a touching way to recognize the complete family. But finding a way to include the children in that all-important piece of wedding clothing is a truly personal touch, and it assures the children that they're so important that Mom wants to keep them as close to her as possible on her special day.
If that idea appeals to you, consider one or more of these options as you choose your own bridal garb. It'll add to the beauty of the day, and the loving sentiments will last long after you've had the dress cleaned and put in storage.