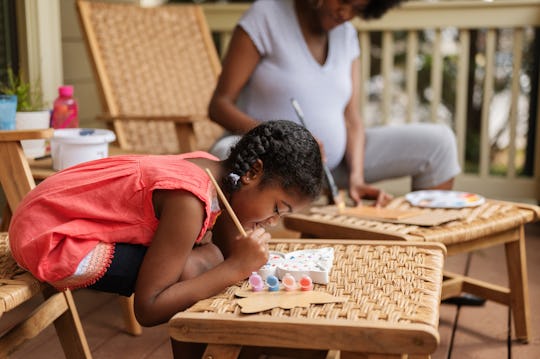 Zach Wolfe/Photodisc/Getty Images
Parents With One Child: It's Time To Get Silly & Weird With The Quarantine Activities
Like many parents of only children, I am feeling both stressed and sad that my kid can't play with buddies in this time of social distancing. It's heartbreaking to take a walk and have your kid look longingly at other children, knowing they can't go play. Which is why I've rounded up some ideas for how to keep only children entertained. (Note: these ideas are mainly for younger kids.)
Parents of only children are in a particularly tight spot right now. Not only do we worry about our child being lonely, we are also struggling with how to keep them busy so that we can attempt to get some work done, or take breaks, or do any of the million other things we were used to doing back when our kids were in school or at day care.
It's hard not to worry about your kid's isolation. How long will it be before they can once again play a carefree game of tag with their cousins? Yes, we can romp with them as much as possible, but it isn't the same as being with another 4-foot-tall person who also thinks wasps are the coolest insect ever, and that poop jokes are riotously funny.
In my lighter moments, I try to remind myself that personal challenges can sometimes reveal a hidden beauty or new discovery, or teach us something powerful about ourselves or others. I have no idea how my kid will look back on this time in his life, but perhaps it will teach him immense gratitude for his pals. Or his boredom will blossom into even more imaginative play. Perhaps it will bring us all closer together as a family. Or maybe it will simply remind me that yes, poop jokes really are the height of humor, and how did I ever forget this?
As I write this, my kid has just shut himself into a cabinet beside my desk and asked me to play magician. So. OK. This morning I'm a magician. Who needs to pull another cup of coffee out of her hat.