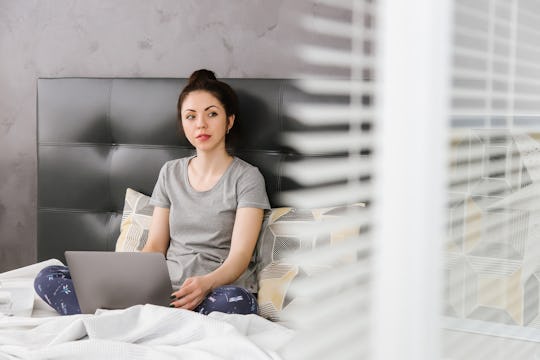 Shutterstock
7 Anxiety Management Techniques To Help Calm Your Mind & Body
I think I've always had anxiety, but I wasn't officially diagnosed until college. And I didn't start taking medication for it until after I had a stroke in 2015. Before the medication, I believe I was what you'd call a self-medicator — I'd drink a lot of alcohol, smoke a lot of cigarettes, and partake in other substances that are legal in some places and not others, if you know what I mean. Now that I'm taking the miracle drug Lexapro, I no longer smoke anything at all, and I have a much healthier relationship with alcohol. Anxiety management techniques and my medication were life savers, literally, as I was no longer hurting my body with so much alcohol and nasty cigarettes.
So now, instead of drinking or smoking to numb my racing heart and silence my thoughts when I feel like things are too unbearable, I continue to take my recommended dose of mediation and practice these techniques when trying to calm myself down, convincing myself that my brain is basically playing tricks on me and that everything will be OK. This was especially important after I had my son. Postpartum depression and anxiety were very present in my life up until he turned about 6 months old, and I still go back to my old feelings and worries sometimes. However, they're definitely not as bad as before where I felt like my life was over, he'd never ever sleep (and I'd never sleep), and he was going to die of SIDS in his crib unless he wore his Owlet sock monitor so I could watch his heart rate and oxygen levels before I felt comfortable enough to go to sleep.
I feel like it's important to note that sometimes medication is the answer for some people with anxiety or mental illness, and for others , medications don't work as well as behavior management techniques. For people like myself, maybe it's a combination of both that does the trick. Whatever you decide to do is a great step in the right direction, because it's very important to do something to make your life and mental health better.
So how do you know if you have an actual anxiety disorder and you're not just reacting normally to stressors? Carrie Krawiec, a licensed marriage and family therapist tells Romper in an email interview, "People with generalized anxiety disorder have excessive anxiety or worry most days for at least six months. They worry about a variety of scenarios like home, school, work, and relationships. What makes a disorder more than typical anxiety is that it causes problems like avoidance of activities, difficulty completing tasks, relationship issues and conflict, sleep problems, muscle tension, irritability, panic, and heart palpitations."
If this sounds like you, perhaps some of these management techniques can help you out.